It's a 'yes' from the critics as Harry Hill's I Can't Sing! opens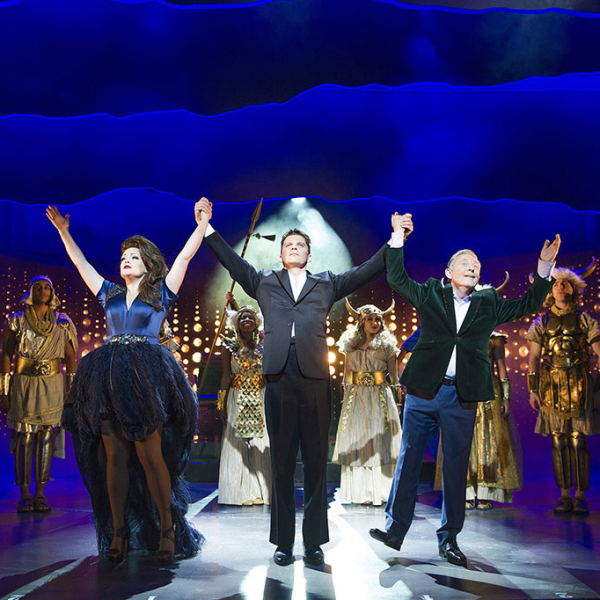 Michael Coveney
WhatsOnStage
★★★★
…director Sean Foley – who's plundered similar territory in The Play What I Wrote – has supervised the sort of bona fide popular variety entertainment that The X Factor and other amateur talent shows have shamefully displaced on television. And Chenice – played and sung by [Cynthia] Erivo with talent to burn and serious personality overflow… is a modern day Dorothy… Es Devlin's brilliant designs often set technical challenges – hence jokes about cancelled previews – but they are always worth the trouble. The land of aspirant losers becomes a second act Valhalla of curvilinear neon-lit dressing rooms and cabaret walk-downs, glittering ensemble numbers, pink feathers and even a Message from God: "He Loves This Show".
Michael Billington
Guardian
★★★
…one of the problems with the show: it seems uneasily pitched between send-up and celebration… But, although the show has flashes of wit… the musical's innate geniality means it lacks a killer blow. There are redeeming qualities. Es Devlin's designs are wittily ingenious… Sean Foley's direction has a number of neat visual gags… And one or two performances are outstanding. Cynthia Erivo… is dazzling as Chenice, combining a Cinderella-like charm with formidable lung power. Nigel Harman as Cowell exudes impenetrable self-regard… And there is decent support from Simon Lipkin… Billy Carter… and Simon Bailey… I've had many worse evenings at musicals. But I fail to see the point of a show that doesn't know whether it wants to excoriate The X Factor or boost its TV ratings.
Paul Taylor
Independent
★★★★
…it's with some surprise that I must confess to having really rather enjoyed this £6m musical spoof concocted by comedian Harry Hill, composer Steve Brown and director Sean Foley. I'm not saying "I Can't Kvetch!" because there are all kinds of niggles and caveats… But there is a bonkers, surreal charm to the loopy lampooning… Nigel Harman's deliciously funny performance… Cynthia Erivo makes the hairs on the back of your neck stand to attention with her elating rendition of the damnably catchy "I Can't Sing"… The strain of upping the satirical ante on a programme that long ago lunged into self-parody sometimes tells. But there are some sharp digs at the manipulativeness of the process… On the whole, then, it's an unanticipated yes from me.
Charles Spencer
Daily Telegraph
★★★★
…The show is wildly eccentric and often wonderfully funny. It is also splendidly rude about Cowell himself… Like all Hill's best work, I Can't Sing mixes the surreal and the satirical… the performers give it all they've got, the designs are spectacular and the whole delightfully bonkers show has a winning wit and warmth about it in Sean Foley's constantly engaging production. The songs… offer an exuberant pastiche of a huge range of styles… The delightful Cynthia Erivo is an absolute joy in the role, at once vulnerable and plucky. There is a cracking performance too from Nigel Harman as Cowell… The show may be too raucous and vulgar for some, but I Can't Sing strikes me as a big popular hit blessed with real heart and great theatrical panache.
Henry Hitchings
Evening Standard
★★★
…The result is an unashamedly populist show that's laced with satirical glee… Clearly director Sean Foley and designer Es Devlin have had a lot of fun with the £6 million budget. And at the heart of the enterprise is Hill's perennially wacky sensibility, abetted by the songwriting of composer Steve Brown, whose default setting is exuberant pastiche… while Cynthia Erivo oozes infectious charm as Chenice – and has a voice that soars thrillingly – it's the peripheral details that give the production its bizarre allure. Advance word suggested that I Can't Sing! would have critics reaching for the X Factor catchphrase 'It's a no from me'. Although it doesn't merit an emphatic 'Yes', this is in fact a cheekily surreal and anarchic piece of entertainment, keenly aware of its own tackiness and triviality.
Dominic Maxwell
The Times
★★★★
This flawed but funny show gets a "yes" from me… it's a pleasure to report that far from being a fiasco, it boasts some glorious gags and several delectably silly set pieces. Pitched somewhere between send-up and celebration, it lacks the satirical edge that might sustain it when Hill's script hits its bum notes… There are moments of inexplicable magic… Kate Prince's lavish choreography and Es Devlin's spectacular set help to fuse the sensibilities of Broadway and TV Burp… The funny ideas keep on coming, right up to a jaw-dropping airborne ending. Some so-so ideas keep on coming as well. Hill and Foley are inventive rather than utterly rigorous… A bit more of such acidity would help I Can't Sing! add up to more than the sum of its knowingly ludicrous parts. Made me laugh though.