Is Sean Foley's Jeeves & Wooster Perfect or Nonsense?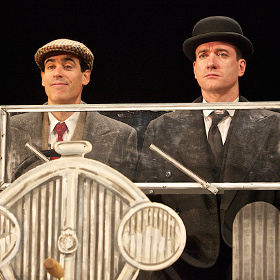 Michael Coveney
WhatsOnStage
★★★★
…This new three-hander by Robert and David Goodale, hyper-inventively directed by Sean Foley, goes down the route of meta-theatricality, laying a sort of 39 Steps approach across the improvisatory template of The Play What I Wrote… The show's brilliant joke is that the implacable Jeeves, whose interventions are only implied at leisure in the original, is translated into a quick-change artist in the cause of smoothing out the creases, and the crises, in the story… Foley's production probably errs on the side of too much scenic and stage-effects business, as if covering all options without trusting them equally. But it seems churlish to complain about a show that is so fertile and generous in its presentation, and so spiritedly performed…
Michael Billington
Guardian
★★★
…The problem is that Bertie has only two actors at his disposal. This leads to a sustained send-up of theatrical conventions with joke props, a bicycle used to propel the revolving stage and lightning costume-changes… the best bits are those when you hear the authentic voice of Wodehouse himself. It is a pleasure to be reminded that Spode had "the sort of eye that can open an oyster at 60 paces", or that Madeline Bassett "heaved a sigh that seemed to come straight up from the cami-knickers"… It's an evening that reveals more of Wodehouse's gift for farce than of his matchless verbal felicity…
Paul Taylor
Independent
★★★★
…Stephen Mangan is the Platonic ideal as Bertie Wooster, as is clear from the moment he clocks the audience and bares his teeth in the most adorably asinine and good-natured grin in captivity. "I thought we said 7 for 7.30."… The nudge-nudge pretence of chaotic amateurism in Sean Foley's knockabout production (the bicycle-powered revolve, say) can get a bit tiresome. But Macfadyen and Hadfield turn in tours de force of inspired silliness and versatility. And I don't see how Mangan, with his honking toff's laugh and his lovely aura of benign dimness and noblesse oblige, could be bettered as Bertie. By and large, top-hole.
Henry Hitchings
Evening Standard
★★★★
…PG Wodehouse is the patron saint of suave silliness, and his most famous creations — idle toff Bertie Wooster and his gleamingly shrewd valet Jeeves — are the epitome of a very English kind of elegant buffoonery… Although the plot is thinner than an ant's eyebrow, there's plenty of clever and silly business, buoyed by the expert performances of Matthew Macfadyen and Stephen Mangan… And Mark Hadfield, though very much the junior partner in what's been billed as a two-hander, steals several scenes… Director Sean Foley is adept at farce, and Alice Power's designs are ingenious…
Charles Spencer
Daily Telegraph
★★★★
…Sean Foley (The Ladykillers) is a great comic director, however, and he is once again in winning mid-season form here… Jeeves astonishes Bertie by furnishing the bare stage with some delightful set designs that become ever more inventive and lavish as the show progresses, and this apparently makeshift production creates a delightful sense of conspiracy between the actors and their audience … Stephen Mangan proves the perfect Wooster, achieving exactly the right mixture of bonhomie, idiocy and panic … Matthew Macfadyen is equally fine as Jeeves, commanding, sepulchral and extremely strict in the matter of men's trouserings, no matter how fraught the situation may be … I suspect that Wodehouse himself would have loved this production, and there is no doubt that it captures the dotty, sunlit innocence of his work with panache.