Following up success with more of the same has never been easy. In Henry IV Part 2, Shakespeare moves away from that bloody field by Shrewsbury to the equally lethal conflicts of court and common-folk. The haunted king is fast decaying; his two older sons are consolidating their adult personalities; power of many kinds seduces everybody.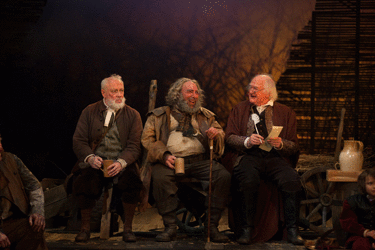 For some odd reason, the cast of Gregory Doran's production this time failed to accommodate itself to the acoustics of the Theatre Royal, Norwich – Jasper Britton's King Henry, Sean Chapman's Northumberland and even Alex Hassell's Prince Hall were too often downright indistinct at the first performance.
The conspirators – Keith Osborn's Archbishop and Trevor White's Mowbray among them – are much better articulated, as is Simon Thorp's commanding Lord Chief Justice and Antony Byrne's anachronistic Rumour; Byrne is also a marvellously over-the-top Pistol..
Those lovingly depicted country justices are gently caricatured by Oliver Ford Davies as the gullible Shallow and Jim Hooper as the even more doddering Silence (who fails to live up to his name). The conscripted yokels include Nicholas Gerard-Martin's not-so Feeble.
Falstaff and his Eastcheap associates are much to the fore, with Antony Sher refining his portrait of the fat knight with ever more delicious details. Paola Dionisotti's Mistress Quickly and Nia Gwynne's Doll Tearsheet become people rather than types; we feel sorry that their day-dreams only come to reality as nightmares.
In Elliot Barnes-Worrell's icy Prince John we see the future pragmatic Duke of Bedford in embryo. His air of deceptive self-control is truly frightening as he tricks the conspirators into disbanding their forces.
Then there's Hassall's maturing king-in-waiting. From his first scene with Sam Marks' Poins onwards, we watch him distance himself from his past – until it climaxes in the dismissal of Falstaff in the final Westminster scene. This staging of these two plays is indeed a great achievement, but for me the magic was diminished in the second one.
Henry IV Part 2 runs in repertoire at the Theatre Royal, Norwich to 18 October and tours nationally until 15 November.