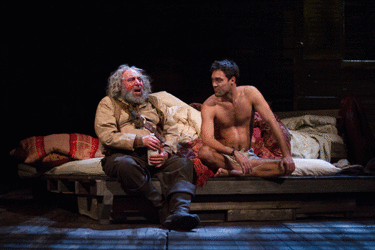 King Henry IV is a haunted man. There's the cousin he deposed and wished dead – never a desire for a wise monarch to voice too loudly – and all too soon his fractured vow to liberate Jerusalem. Not to mention a scapegrace eldest son and courtiers very aware that Henry Bolingbroke would never have become King of England without their aid.
Sharply incisive performances and an engaging habit of addressing the audience full out (in a slightly operatic fashion), so that we become more than listeners-in but true participants in the drama, are the backbone of Gregory Doran's production, which the RSC is now touring.
Stephen Brimson Lewis' flexible set of slats, stairs leading to galleries and a wooden raised platform keep the action flowing. The lighting by Tim Mitchell is atmospheric and there's a good use of music (Paul Englishby). Court and Eastcheap, plotters' castles and battlefields succeed each other seamlessly.
Falstaff is the lynchpin of the action; decayed gentleman (he is recognised by the king's closest advisers), would-be power behind the next throne, comfortable in tavern or brothel yet with a sense of despising both – Antony Sher embodies all these contradictions. You want to shake sense into the man – and know that would diminish both him and you.
There's a marvellous portrait of Hotspur by Trevor White, all physical as well as verbal violence. A man who is hyperactive and genuinely (as shown in the scenes with his wife – a three-dimensional cameo by Jennifer Kirkby) someone who cannot see the difference between a blow and a caress. Except, perhaps, that the blow makes him feel better.
Against these two dominating personalities, Alex Hassell's Prince Hal manages to grow in stature and responsibility as the play progresses. It starts into frighteningly stark bloom in the playacting between Falstaff and Hal in Act Two Scene Four when Falstaff (playing the prince to Hal's king) says "Banish plump Jack, and banish all the world" with the sharp ice in the prince/king's response "I do, I will".
The fights devised by Terry King are realistic in their ferocity. Among the other players, Jasper Britton's Henry IV, Sean Chapman's devious Northumberland, Joshua Richards' Glendower, Sam Marks' Poins, Martin Bassindale's Peto and Elliott Barnes-Worrell's double as Prince John and the harassed tavern potboy Francis stand out. It all makes one look forward with keen anticipation to the second part of the history.
Henry IV Parts 1 and 2 are at the Theatre Royal, Norwich until 18 November and tour nationally until 15 November.