Heathers the Musical trailer released ahead of West End run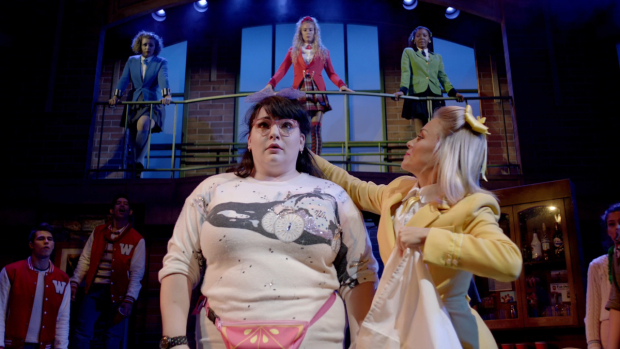 The brand new production of Heathers, which first opened at The Other Palace earlier this year, has released its trailer ahead of its West End run next month.
The West End production will include a new number and new cast members, including Hugh Maynard (Miss Saigon) as Ram's Dad, John Lumsden (Les Misérables) as Hipster Dork and Merryl Ansah (Beautiful) as Drama Club Drama Queen.
Continuing in the cast is Carrie Hope Fletcher as Veronica, Jodie Steele (Chandler), T'Shan Williams (Duke) and Sophie Isaacs (McNamara) as the Heathers, and Jamie Muscato as Jason Dean. The cast is completed by Chris Chung (Kurt Kelly), Dominic Anderson (Ram Sweeney), Jenny O'Leary (Martha Dunnstock), Rebecca Lock (Ms. Flemming), Jon Boydon (Kurt's Dad), Alex James Hatton (Officer Milner), Charlotte Jaconelli (Stoner Chick), Lauren Drew (New Wave Girl), Olivia Moore (Young Rerepublicanette), and Sergio Pasquariello (Officer McCord).
Laurence O'Keefe and Kevin Murphy's musical has direction from Andy Flickman, choreography by Gary Lloyd, design by David Shields, lighting by Ben Cracknell, sound by Dan Samson and casting by Will Burton.