There are 30 people onstage at various points during Catherine Lomax's new production of Hairspray. Quite an achievement at the Gordon Craig theatre, though Scenic's clever sequence of settings allows for plenty of room for Khiley Williams' excellent choreography.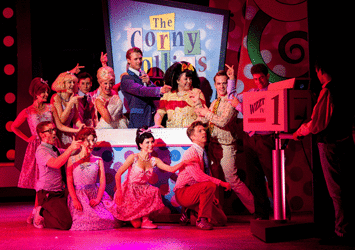 Hairpray's story of small-town 1960s America with rock'n'roll just beginning to edge out the big band sound and more conventional dance-floor moves has larger-than-life characters. Take our heroine Tracy Turnblad (Francesca Fenech), a plump lass determined to get the boy she fancies, crooner Link Larkin (Simon Anthony).
Then there's Tracy's mother and father. Edna is conventionally played as a drag role, and Daniel Page does this with considerable subtlety and finesse. Wilbur (Mark Jardine) is a joke-shop proprietor whose professional interests spill over into his home life. Both make the most of their solos and duets.
Full of warmth and affection, this contrasts with that of Penny Pingleton – Tracy's best friend (Natalie Bush) – and her up-tight mother Prudy (Amy Bird). All blonde beehives and cream beaded chiffon, local television station owner Velma Von Tussle (Pippa Wimslow) and her prom-queen daughter Amber (Michelle White) are the ruthless elements in the story.
When Tracy finds herself in detention, she is drawn to make friends with a set of African American youngsters, among them Seaweed (Ashford Campbell) and his sister Little Inez (Seyi Omooba). They are fine dancers as well as actors, and you can see why Penny is also drawn to Seaweed.
Musical director Chris Keen, fronting an 11-piece pit band, has the measure of the numbers; the blues solo for Motormouth Maybelle – record shop owner and mother of Seaweed and Little Inez – is particularly well put over by Linda John-Pierre. Singing in close harmony the three-girl Dynamite group – Koko Basigara, Natasha Cottriall and Lauran Rae – seize their moments in the spotlight.
Anna-Lisa Maree's costumes are a delight; I particularly liked the moment when Edna and Tracy step out of camp Mr Pinky David Malcolm)'s boutique in eye-dazzling scarlet satin. There's also a good cameo by Max Keir as the television talent-show and migriane-afflicted sponsor Mr Spritzer.
The name of the product being promoted on Corny Collins (Chris Warner-Drake)'s WZZT station show? Ultra Clutch Hairspray, of course. It's well worth your while to sample it in Stevenage.
Hairspray runs at the Gordon Craig Theatre, Stevenage until 23 August.