Garry Robson: 'Our stages need to reflect how diverse this country is'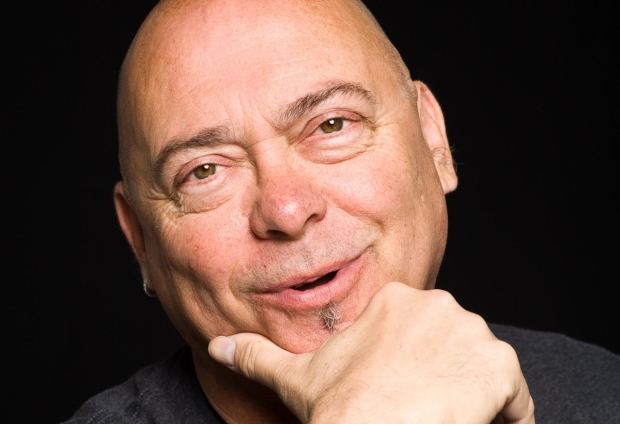 Over his career, Garry Robson has worked as a musician, singer, writer, director, actor and performance artist. After starting off in music, he's now one of the leading talents who work with theatre companies such as Ramps on the Moon and Graeae, which are known for staging world-class, disability-led theatre. Having contracted polio as a child, Robson performs mostly in a wheelchair and has presented the BBC TV show Crisis Control and runs his own company Fittings Multimedia Arts. Recently he starred in The Who's Tommy which received rapturous critical acclaim and now he's about to appear in Our Country's Good, the latest project for Ramps on the Moon. Ramps on the Moon produces mainstream touring productions using a mixture of D/deaf and disabled performers and here he explains why this play and why now.
---
Some may not have seen it before, what's Our Country's Good about?
It's based on a true story from the 18th century. It's set on a penal colony in Australia where prisoners from England's jails were sent because the prisons were overflowing. They were in what is now known as Sydney and the first governor was called Captain Philips and he felt a good way to rehabilitate the convicts was through the arts. So he asked one of his young lieutenants to stage a play with the convicts. They staged George Farquhar's The Recruiting Officer. Our Country's Good is about the putting on of this play.
Why chose Our Counrty's Good for the third in the Ramps on the Moon project?
Our Country's Good is also a very good play, which means people will come to see it for the sake of the play. That's really important. A mass of Who fans came to see Tommy without knowing it was an integrated D/deaf and disabled company. Many of them said it was the first time it made sense. The play is also about the redemptive power of art and the arts are beginning to be seen as a luxury in this country. Which I don't think should be the case. Interestingly, there were also several deaf convicts sent with the ship.
What can we expect from the production?
Ramps on the Moon employs a mixture of D/deaf and disabled artists and non-D/deaf and disabled artists. Which is quite an unusual thing. But the company also looks at the imaginative use of embedding sign language and audio description into the body of the piece, so rather than having a sign language interpreter at the side of the stage, all the sign language is embedded in the script. So audiences will see a bilingual performance.
This is the second Ramps on the Moon project you've been involved with – what's it like being part of it?
I was in Tommy, which was amazing. The audience response was phenomenal. Out of 70-odd shows I don't think there was one where we didn't get a standing ovation. It is thrilling. It's exposing talented D/deaf and disabled performers and artists to mainstream theatres and vice versa. So there's a lot of building bridges and crossing boundaries.
When you were working on Tommy, were you ever worried it wouldn't work?
It's like every show – you just don't know until you get it in front of your audience. The genius of Tommy was casting a D/deaf young actor as Tommy. I had also been in Graeae's Reasons to be Cheerful, and we didn't know what we had until the first night – it was at the New Wolsey and the audience went wild for it. This is going to be a challenge though, because we started with a comedy, then a rock opera and now this is a straight play. It's very funny in parts, but it's very dark humour.
What made you want to get into performing?
I always wanted to. When I was at school I was in the village am-dram, in school plays too. But then when it came to careers day, and I said I wanted to be an actor, it was thrown out of court: "You can't do that, nobody does that who is disabled". So I became a musician instead, because they don't mind what you look like.
Did you do any formal training?
No, just life experience. I was one of the lead singers of the band I was in, and there's a degree of experience you get from that. You get good at improvising. You learn how to work an audience.
What have been the biggest challenges in your career?
I think it's casting directors and directors' lack of imagination. You end up playing the same part all the time. I've done quite a bit of telly and all the time you're a crip with a chip on your shoulder. Or you're an angel. It's the same in theatre. If it cries out for a disabled person to be in the role, you might get approached. It's also hard to be taken seriously often. There's often a patronising attitude, I'm occasionally told: "Well done, well done". Which is an inch away from a pat on the head.
Do you have a response now to when that happens?
If it's a passing comment you often roll with it. I'll happily talk to anyone about it and I'm kind of pleased when someone says: "What's wrong with you then". It's a bit intrusive, but I'd sooner people did that than speculate. The older I get, the more I think people just think I'm [in a wheelchair] because I'm old.
Do you think things are changing?
There's no doubt about it, it's been changing for the better over the last decade. It's about getting to the moment where people are cast for their talent, rather than their wheelchair, or the fact that they are D/deaf. Ramps on the Moon helps that enormously. It's just getting people used to seeing different bodies on stage. We're a beautifully diverse country and that should be reflected.
Our Country's Good runs at Nottingham Playhouse until 24 March and then tours to Ipswich (28 March to 7 April), Leeds (11 to 21 April), London (25 April to 5 May), Sheffield (12 to 19 May) and Birmingham (23 May to 2 June).