Full Cast Announced for Liverpool Playhouse's A View From The Bridge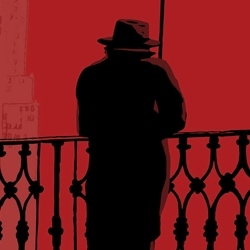 Arthur Miller's portrait of an ordinary man in a clash of cultures, of generations and of moral duty, A View From The Bridge opens the new season at Liverpool Playhouse from 27 March to 19 April, as previously announced. The production is directed by Quercus Award-winning Everyman and Playhouse Associate Director Charlotte Gwinner and features Lloyd Hutchinson as Eddie Carbone and Julia Ford as his wife Beatrice.
1954, New York, and buried in the heart of the docking community on the seaward side of Brooklyn Bridge is the small neighbourhood of Red Hook – a close-knit Italian American community, rich in culture, with a big heart and strong family ties. A place where men work and women keep house, and where honour and loyalty are the order of the day. On the waterfront, Eddie Carbone is working hard and keeping his head down. Together with wife Beatrice they've raised their niece, Catherine, from a small child. Now they've taken in Beatrice's Sicilian cousins, Marco and Rodolpho. But times are changing and Eddie's losing his grip.
Charlotte Gwinner was appointed Associate Director at Liverpool Everyman and Playhouse with the support of the Quercus Trust and in partnership with the National Theatre. She was previously associate director at the Bush Theatre from 2009 to 2011 and is the founder and artistic director of Angle Theatre. Her credits include Bytes (Royal Court), Taking Part (Criterion Theatre), Benefactors (Sheffield Crucible Studio) and Our New Girl (Bush Theatre).
Gwinner says: "Liverpool is the perfect setting for this play, with its history of the docks, its close-knit community and its sense of family; it shares the same DNA as A View From The Bridge. I am really looking forward to directing this play on the extraordinary Playhouse stage, where the sound of seagulls and distant ship horns can literally be heard outside and where the proscenium arch becomes an epic frame for Miller's devastating portrait of an ordinary man."
Lloyd Hutchinson plays Eddie Carbone, the longshoreman at odds with his family, his community and himself. Hutchinson's theatre credits include Collaborators and The Observer (National Theatre), Measure For Measure (Almeida) and Boris Godunov, Troilus and Cressida (RSC). Beatrice Carbone is played by Julia Ford who was last on stage in Liverpool as Lady Macbeth opposite David Morrissey at the Everyman in 2011. Ford's other credits include Mogadishu (Royal Exchange/ Lyric Hammersmith), The Life of Galileo (National Theatre) and The Weir and The Shallow End (Royal Court).
The cast also includes Bruce Alexander, Andy Apollo, Daniel Coonan, Denise Kennedy, Liam Tobin, Shannon Tarbet and Tom Peters.