Evita (Tour – Birmingham)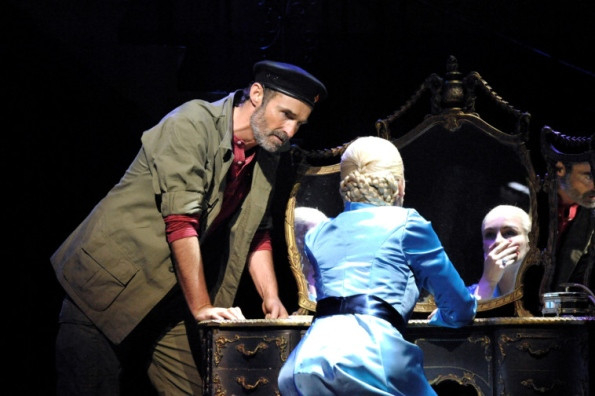 The story of Argentina's First Lady Eva Peron doesn't seem like the most conventional of ideas for a musical, but this classic piece by Andrew Lloyd Webber and Tim Rice still hits all the right notes. Returning to the Birmingham Hippodrome again, Evita conveys an emotional story of love, power and fame with a beautiful score.
The title role is played with utter grace by Madalena Alberto. Her presence as Evita is delightful and her renditions of "Don't Cry For Me Argentina" and "Buenos Aires" are a true accomplishment of the show. She maintains her "Peron persona" throughout and makes becoming a First Lady seem easy and enjoyable. Peron's status as a style icon is echoed with beautiful costumes coupled with some not so brilliant wigs.
Marti Pellow gives a lacklustre performance in the role of Che. His voice is somewhat lacking in comparison to the rest of the cast and sometimes reaches for notes that are far beyond his range, however this doesn't stop the majority of the audience seemingly loving his appearance in the show.
After starting off with a few clunky set pieces, the set becomes more workable and the scene changes are less obvious and loud. For a small scale touring show, the set is pretty impressive in creating different scenes and emotions.
The incredible musicality of this show is undeniable and Alberto is a joyous pleasure to watch as Evita. This, coupled with Bob Tomson and Bill Kenwright's direction, makes this production of Evita a superb rendition of the Webber/Rice classic.
Evita plays at Birmingham Hippodrome until April 19.