Every Brilliant Thing (Edinburgh Fringe)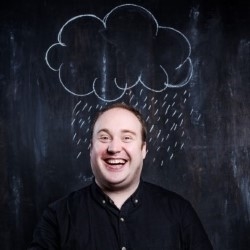 How would you cope if you were six years old and your mother tried to commit suicide?
The boy in Duncan Macmillan's life-affirming play decides to make a list – one that contains every brilliant thing in the world, ostensibly in the hope that it'll show his mum everything worth living for.
Continuing to add to the list as he grows older and finds and loses love, he tries to come to terms with the depression that shaped his childhood.
Audience members become key figures from his life – his father, lecturer, school counsellor, wife – who, as well as being integral to the list, read out numbered items when prompted.
Paines Plough's new Roundabout Auditorium is a perfect setting for George Perrin's beautifully directed production and Jonny Donahoe, best known as one half of comedy band Jonny and the Baptists, is perfectly cast, making the piece feel deeply personal.
Although dealing with the themes of depression and suicide, Every Brilliant Thing is ultimately uplifting, and I defy anyone not to laugh and cry.
As the list grows and grows, eventually reaching one million, I can't help but think of one more to add; Every Brilliant Thing.
FOR MORE ON EDINBURGH 2014 VISIT WHATSONSTAGE.COM/EDINBURGH-FESTIVAL