Edward Scissorhands announces full casting and additional tour dates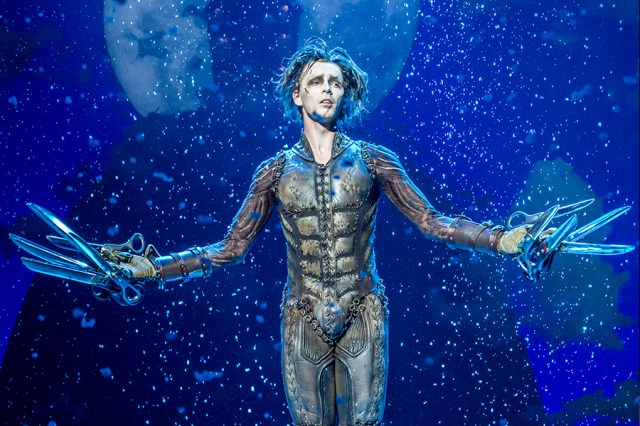 New Adventures, along with Martin McCallum and Marc Platt, has revealed the complete cast and added tour dates for Edward Scissorhands, devised, directed, and choreographed by Matthew Bourne.
The show is scheduled to open on 20 November 2023, at the Theatre Royal Plymouth, the piece will travel to various venues, including The Lowry Salford, Sadler's Wells, Marlowe Theatre Canterbury, Milton Keynes Theatre, Birmingham Hippodrome, New Victoria Theatre Woking, Liverpool Empire, Theatre Royal Nottingham, Bristol Hippodrome, Mayflower Theatre Southampton, Wales Millennium Centre Cardiff, Newcastle Theatre Royal, the Alhambra Bradford, Norwich Theatre Royal, Hull New Theatre, Edinburgh Festival Theatre, and King's Theatre Glasgow.
Edward Scissorhands will feature Liam Mower and Stephen Murray in the title role, with Katrina Lyndon and Ashley Shaw as Kim Boggs. The cast also includes Kerry Biggin, Etta Murfitt, Mami Tomotani, Glenn Graham, Dominic North, Benjamin Barlow Bazeley, Ben Brown, Stephanie Billers, Nicole Kabera, Ashley Shaw, James Lovell, Luke Murphy, Reece Causton, Andrew Ashton, Jade Copas, Jamie Duncan-Campbell, Anna Maria de Freitas, Perreira de Jesus Franque, Molly Shaw-Downie, Megan Ferguson, Savannah Ffrench, Christina Gibbs, Sophia Hurdley, Aristide Lyons, Xholindi Muci, Barnaby Quarendon, Edwin Ray, Holly Saw, Nikolas Shikkis, Xavier Sotiya, and Carrie Willis.
Bourne shared his thoughts on the relevance of Edward Scissorhands, stating, "Never has the story of Edward Scissorhands been more timely. In an era when uniqueness and identity are both celebrated and reviled, its story of how we treat anyone who appears to be different in our communities is as poignant and relevant as when my dear friend Caroline Thompson wrote the screenplay for Tim Burton's legendary movie fable some 33 years ago."
Edward Scissorhands made its debut in 2005 and has played to sold-out performances in various countries. It had its first significant revival in 2014 and now returns to UK theatres for the first time in nine years.
Based on Tim Burton's classic movie and featuring the music of Danny Elfman and Terry Davies, the story revolves around Edward, a boy with scissors for hands, created by an eccentric inventor. When his creator passes away, Edward is left alone and unfinished until a kind-hearted woman invites him to live with her suburban family.
Edward Scissorhands is devised, directed, and choreographed by Bourne, with new music and arrangements by Davies based on themes from the motion picture score composed by  Elfman. The show is based on the original motion picture, with original story and motion picture directed by Burton, and original screenplay, story, and co-adaptation by Thompson. The set and costumes are designed by Lez Brotherston, lighting is designed by Howard Harrison, and sound is designed by Paul Groothuis. The production is presented in collaboration with Buena Vista Theatricals.