Editor's Blog: Made in Dagenham and the plight of the British musical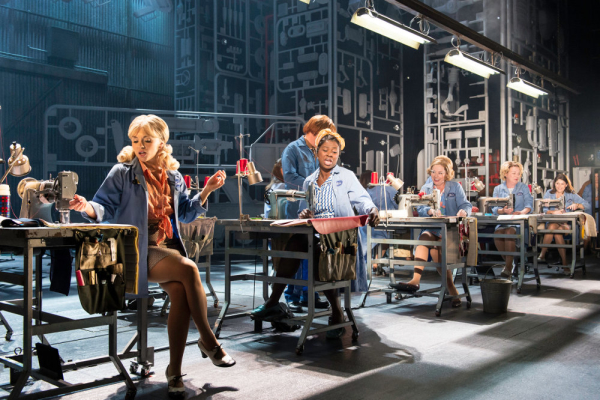 The recent announcement of the closure of
Made in Dagenham
after just five months in the West End was greeted by deafening silence. Having heard about its struggles at the box office for a number of weeks, I confess to being among those who were unsurprised by the news. But nevertheless, it merits closer scrutiny.
On paper, like all new musicals, the project was a gamble. The film, whilst modestly successful, was far from a smash hit in the league of Billy Elliot or The Full Monty. As such the producers, Stage Entertainment, knew that relying on its title alone to get bums on seats was unwise.
So a stellar team was brought in to create a blockbuster – hotshot director Rupert Goold, proven hitwriter Richard 'Two Guvnors' Bean and the multi award-winning composing team of David Arnold and Richard Thomas. And to top it all off they cast a bona fide A-lister, Gemma Arterton, in the lead role of Rita.
Suddenly, it didn't seem such a risk. At the launch event last summer I like many was impressed by the snippets on show, and Goold gave a barnstorming speech to the gathered journalists promising to "put the musical back on the map". Sadly, his efforts have arguably done the opposite – provided further fuel for the oft-heard argument that the new British musical is more lost than it has ever been.
The blame for this can't be laid solely at the door of the show, which to my mind is one of the strongest – and least cynical – new musicals to grace the West End in recent years. It's funny, it's stirring and, like seemingly all the most successful British stories, it revolves around industrial action. So what went wrong?
The lack of a clear answer to that question is disturbing. Because the fact is there is no clear answer. The best, and most obvious, is to simply say that audiences just aren't interested.
But surely there's more to it than this. Audiences clearly do have an appetite for musical theatre, as evidenced by the apparently exponential increase in annual box office figures released by SOLT (the 2014 report, due on Friday, will make interesting reading). And, much as it's often derided, the screen-to-stage model is a tried and tested one.
I've heard it said that walking through the West End these days, you could be forgiven for thinking it was 1995 rather that 2015, such is the proliferation of 'golden oldies'. And arguably, when it comes to new work, audiences would rather now get their fix from plays rather than musicals (is that any surprise when they can see Daniel Kitson's Tree at the Old Vic for just £16?).
It's been left to the fringe to nurture and resdiscover new work in the genre, with the Union's upcoming revival of Loserville a prime example – I wouldn't be surprised to see Made in Dagenham get a similar treatment before long. In fact the fringe is beginning to look like a ghostly reminder of what the West End could have been.
So what's the solution for the mainstream British musical? I'd suggest the following recipe for success. Firstly, attention must be paid by large subsidised houses – help those likely to make them, and the rewards are obvious. For every expensive turkey (The Light Princess), there's a golden goose (Matilda).
Secondly, do everything possible to make them affordable to young audiences; imagine the possibilities if the Jamie Lloyd and Michael Grandage model of providing £10 seats was applied to all West End venues.
And thirdly – and this is perhaps the hardest to achieve – let's try to broaden the talent pool. Matt Stone and Trey Parker's The Book of Mormon succeeded because it came from left field and flew in the face of the musical establishment, attracting a huge swathe of fans who would never normally consider that musicals were for them. Where's the British equivalent?
Perhaps hope is on the horizon following news that English National Opera is investing in an annual musical in order to bolster its coffers. I'm also hopeful that the likes of Tim Minchin and those aforementioned Mormon boys will inspire the next generation of writers to consider musical theatre a genre worthy of attention. The recent surge of Hollywood interest should also help.
But until we can adequately answer the question of why so many new British musicals have fallen silent in recent years, we're in danger of producing a lost generation of shows that will provide slim pickings for producers looking for 'golden oldies' in 2035.
Made in Dagenham runs at the Adelphi Theatre until 11 April 2015. The show is nominated for four WhatsOnStage Awards, winners of which are announced on 15 February.