Edinburgh Festival 2016: what we learnt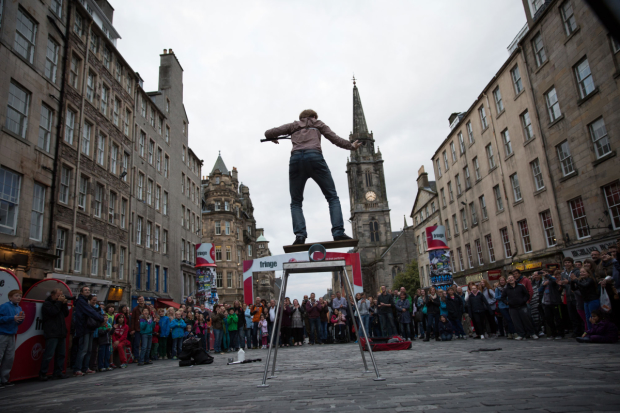 Just in case you hadn't realised, the biggest arts festival in the world happens in the UK. The biggest. In. The. World. You may have been entirely oblivious (unlikely if you're reading this post) but over the last four weeks vast portions of the UK's (and the world's) theatre community descended on Scotland, hoping to find the next big thing. From bright young companies, to producers scouting for potential juicy programming options, to increasingly haggard journalists filing review after review so that the rest of us can pick through what's deemed hot and what is really not.
With that in mind, I'd say it's important to take stock. My ten days up in the 'Burgh (not the full marathon, just a dip in the ocean) was an early reminder of just how hearty and healthy the theatre landscape in Britain is at the moment. There were some who identified this as a lacklustre year for Edinburgh's new writing venue the Traverse, and it's true that there weren't a string of five-star reviews for shows at the theatre. But I was impressed by the breadth of the theatre's programming: from Ghost Quartet's winding, Joyce-like poetry to Mark Thomas' political and personal odyssey about the origins of his long association with Wakefield's Labour club Red Shed (from which, incidentally, I learnt that Greggs bakery was unionised).
Nothing beats being in a room watching a piece you've just stumbled upon that no-one else seems to know about
I liked the fact that the Traverse took risks, too, on both new plays and new directors – Adura Onashile's directorial debut Expensive Shit won a Fringe First, but struggled to impress the critics. I also, actually, rather enjoyed Daffodils, the piece from New Zealand company Bullet Heart Club. I may have been one of a minority, but I was moved by the gig-theatre format and the startlingly original sound of their band.
That's one of the infuriating but also great things about Edinburgh: there are so many people writing about so much, that it's possible for a show to be awarded the full range of stars, from one to five. Rather than relying on billboards and adverts, I would always advise punters to choose a critic they trust the most – and who they like to read the most – and keep track of their Edinburgh journey. Our own writers, Matt Trueman, Holly Williams, Sarah Crompton, Simon Thompson and Ben Hewis, managed to catch a phenomenal amount between them, from Nina Conti, to Forest Fringe, from Broadway legends to Russian clowns. I loved reading their work: their reviews were entertainment in themselves.
I'm not sure I would judge whether it was a good or bad year on the basis of how many shows got five star raves
But nothing beats being in a room watching a piece you've just stumbled upon that no-one else seems to know about. Both Onashile and Lyceum boss David Greig said similar things to me while in Edinburgh – to find the small guys. "If you don't find yourself in a small venue where you're one of only six people in an audience you've not really done Edinburgh properly," Greig said. And I agree with him. My such moments were Team Viking, a sad, bittersweet story about the death of a friend and a really incredible funeral and seeing Stuff, a completely bonkers new circus show.
So was it a good year? Was it a bad year? I'm not sure I would judge that on the basis of how many shows got five star raves. I'll admit, apart from The Glass Menagerie, there wasn't much that made me tingle. But there was a lot that made me feel enthusiastic, shocked, excited and genuinely challenged. And that, I think, is what Edinburgh is really all about.