Edinburgh Blog: On FOMO and the Fringe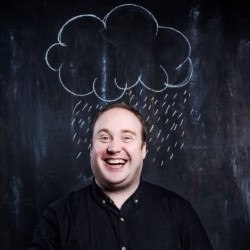 I'm no longer in Edinburgh. In fact, I haven't been for a week now. But that has only intensified my FOMO – that's Fear Of Missing Out for the uninitiated.
Two colleagues in the office have just returned from their own Edinburgh adventures, regaling me with tales of great shows and spectacular one-off moments (apparently Daniel Kitson and Mark Thomas are among those who've been called on stage to improvise during Duncan Macmillan's Every Brilliant Thing – how I wish I'd seen them both).
FOMO is a problem for theatregoers at any time of year – that dreaded feeling that you may have missed the production of the decade – but with Edinburgh it's an almost perpetual condition. With over 3,000 shows you're never going to see everything, and are thereby guaranteed to miss out on at least a few you wish you'd seen.
I should be grateful I got to go at all, and that I got to see no shortage of excellent productions and performances during my short stay. But still, with several colleagues up for the long-haul this year – including Catherine Love, who is heroically covering over 80 shows – and social media ever ablaze with tips and recommendations, it's hard not to feel like I left the party too soon.
Nevertheless, as Mark Shenton recently wrote in The Stage there is no shortage of theatrical life beyond Edinburgh in August, and that's not to mention the ongoing mission of trying to keep up with cultural happenings in other spheres (I took my baby daughter to a 'Big Scream' screening of The Inbetweeners 2 at Clapham Picturehouse yesterday – not high art, perhaps, but certainly a major talking point).
The Edinburgh Fringe survives on word of mouth – it's the factor more than any other that gets bums on seats – and with such a concentration of practitioners and journalists in one city it's bound to create a huge amount of noise. But then there is also the fact that many shows that are highly acclaimed at the Fringe go on to struggle after the festival – a recent Guardian article even suggested the stark contrast between what works at the Fringe and what works in the 'real world' is killing touring theatre.
So to any fellow FOMO sufferers out there, please content yourself with the knowledge that the show you're kicking yourself for missing may well turn out to be a flash in the pan (and if it's not, it'll probably come to a theatre near you soon). And to anyone still in Edinburgh currently contributing to the firestorm of social media recommendations, please try and be considerate before pouring further fuel on the FOMO fire.
FOR MORE ON EDINBURGH 2014 VISIT WHATSONSTAGE.COM/EDINBURGH-FESTIVAL