Donmar election play gets critics' vote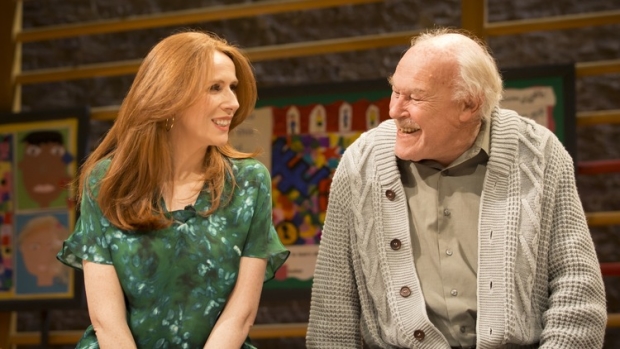 ★★★★
"another hilarious exercise in political anatomisation, only from the bottom up"
"the black comedy of one person one vote is beautifully elaborated with the arrival of Judi Dench and her daughter, Finty Williams, playing a furious mother and daughter"
"it wins my vote more easily than anyone in my local constituency"
★★★★★
"By the time Dench arrives near the end, like the character-comedy cavalry… The Vote has momentum and resonance"
"Rourke gets delightful, disciplined performances from everyone in encounters that also drip-feed us with information and passion for politics"
"The Vote on stage is bold, intelligent and irresistibly enjoyable"
Michael Billington, Guardian
★★★★
"a buoyant farce that testifies to the durable eccentricity of the British voting system and also charts the potential for disaster"
"Graham pins down very amusingly the hazards that affect the workings of democracy"
"Rourke's production occasionally feels like a charity gala. But there is a host of memorable cameos from some fine actors"
★★★★★
"it's brilliantly apt that we should be presented with a general election drama that yokes together the disparate worlds of stage and screen in nail-biting real-time"
"delivers on its promises and ushers in a state of landslide satisfaction"
"Paul Chahidi almost steals the show as an independent candidate beadily obsessed with scrapping a one-way system"
★★★★
"Its episodic structure is probably better suited to television"
"There's not much room for nuance here – the tone is pretty sitcom-esque at times, particularly in the opening moments – but of everyone it's Gatiss who gets the balance just right."
"As an experiment in simultaneous broadcast, it works pretty smoothly for the most part"
And some of the social media reaction
#TheVote is so energising for theatre AND telly. Well done @josierourke and all @DonmarWarehouse.
— rupertgoold (@rupertgoold) May 7, 2015
That was utterly brilliant. Some stunning performances. Love ground-breaking TV like this…& Dame Judi dropping the F-bomb. #TheVote
— Jake Humphrey (@mrjakehumphrey) May 7, 2015
Loving #TheVote on More 4. Can we please have more televised live theatre. Like they do with that cinema relay thingy. Great viewing.
— Corrie Corfield (@corrie_corfield) May 7, 2015