Dirty Rotten Scoundrels (Tour)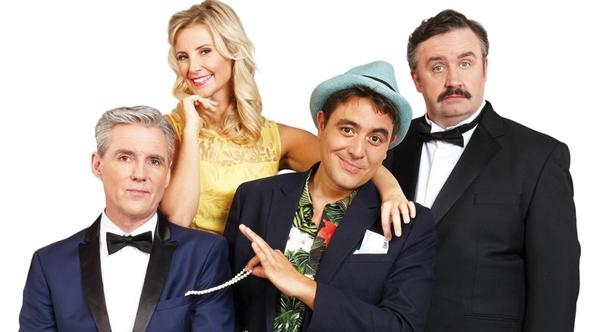 In a rather hyperbolic bit of PR, the promoters of the new touring musical version of Dirty Rotten Scoundrels describe the original 1988 movie, starring Michael Caine and Steve Martin, as "one of the funniest films of all time". Now I'm as much a fan of that particular pair as the next man but I suspect even they wouldn't dare to make that big a claim for it.
Regardless of your view of the source material, however, the decision to turn it into a new stage musical, with songs by The Full Monty's David Yazbek and direction and choreography by Jerry Mitchell, makes perfect sense. It's got a likeable story, a couple of charming rascals to root for and a French Riviera setting to make everything feel that bit more glamorous.
Peter McKintosh's lavish designs go a long way towards establishing the right tone, while a jazzy pit band under musical director Ben van Tienen keeps the frothy tunes rattling along. Yazbek's score is a broad brushstroke pastiche covering everything from cod-cowboy two-step to a yodelling German oompah number, and the songs are generally melodic and pretty memorable.
What really wins the audience over, though, is the sheer fun that's being had on stage, whether it's the energetic dancers or the accomplished principals, led by Michael Praed and Noel Sullivan as the titular scoundrels. Praed showcases his mellifluous voice with unerring charm as the more senior conman working the local hotel clientele, and Sullivan is ebullient and full-throated as his trainee-turned-rival.
Carley Stenson proves a match for them as their latest target, more than holding her own against the impressive competition, and the three clearly have a blast. They're well supported, too, by a surprisingly lyrical and light-footed Mark Benton as Praed's right-hand man, an atypically klutzy Frenchman with an eye for beauty that his character can't match. It's a delightful turn that adds much to the enjoyability of the evening.
I think it's safe to say this is not one of the funniest shows of all time, nor is it a particularly spectacular new musical. What it does, though, it does extremely well: it's glitzy, sassy and wittily entertaining as a piece of amusing nonsense. Which is just as well, since the confident producers have booked the tour well into 2016 on the back of its West End success at the Savoy.
On the strength of this fun launch in Birmingham, with much of the VIP audience on its feet at the curtain, it's probably safe to say they have every right to be confident.
Dirty Rotten Scoundrels runs at the New Alexandra, Birmingham until 16 May, then tours to venues including Manchester Opera House (20-30 May), Sunderland Empire (9-20 June), Glasgow King's (23 June-4 July), Liverpool Empire (7-18 July), Torquay Princess Theatre (21-25 July), Regent Theatre, Stoke (28 July-1 August), Oxford New Theatre (4-8 August), Edinburgh Playhouse (15-26 September), Woking New Victoria (20-31 October), Bristol Hippodrome (16-27 February, 2016), Milton Keynes Theatre (1-12 March, 2016)