Daniel Radcliffe says he'd 'love' to work with Rupert Grint on stage one day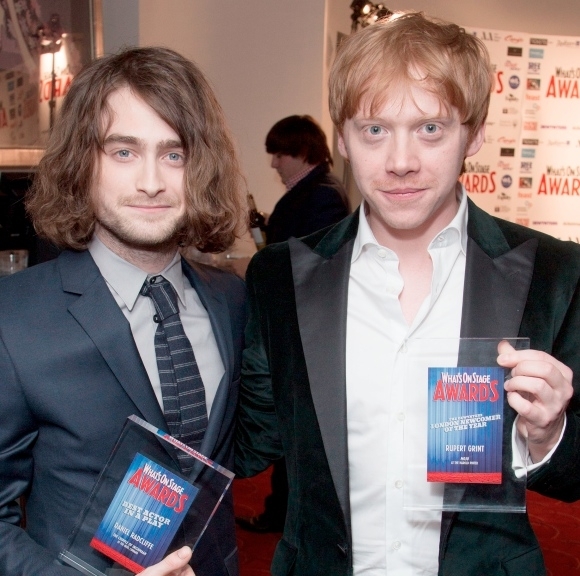 Daniel Radcliffe has said he would "love" to star on stage alongside fellow Harry Potter graduate Rupert Grint, but ruled out doing it any time soon.
Radcliffe and Grint both picked up prizes at Sunday's WhatsOnStage Awards, for their roles in The Cripple of Inishmaan and Mojo respectively.
In the press room, Radcliffe, named Best Actor in a Play, told us he was delighted to see Grint pick up Best Newcomer, which he himself won in 2008 (for Equus). And asked whether there's a possibility he and Grint would work together in theatre, Radcliffe said he'd "love to".
"We'd be silly to do it any time soon, we're both forging our own paths at the moment," he cautioned. "I think at the moment were we to work together it would become about that, about those people [Harry Potter characters] being reunited, rather than about the show."
Theatre producers will no doubt be falling over themselves to cast the young stars when the time comes.
From Potter to Pinter – suggested stage projects:
– Waiting for Godot, as Vladimir and Estragon
– Hamlet, with Radcliffe in the title role and Grint as the loyal Horatio (Emma Watson as Ophelia?)
– Romeo and Juliet, alternating Romeo and Mercutio a la Olivier and Gielgud
– Guys and Dolls, as Nathan Detroit and Sky Masterson
– The Producers, as Max Bialystock and Leo Bloom
– Pinter's The Dumb Waiter, as Ben and Gus
– Jeeves and Wooster in Perfect Nonsense, as Jeeves and Wooster
Can you think of any more?!