Critics praise 'richly unusual' Farinelli and the King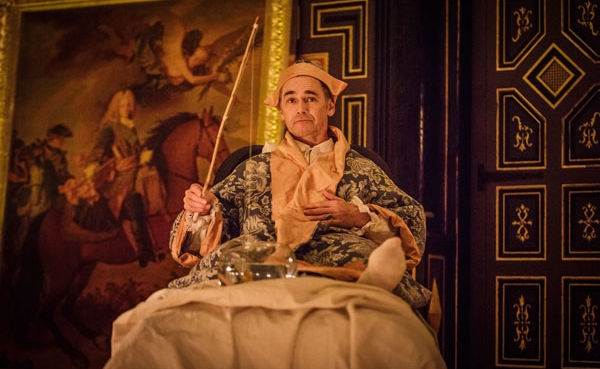 Michael Coveney
WhatsOnStage
★★★★
Mark Rylance has traded his inscrutable Tudor fixer Thomas Cromwell in Wolf Hall on television for an insane 18th century monarch, Philippe V of Spain, grandson of the Sun King, Louis XIV, in the candlelit Sam Wanamaker… Rylance's wife, the composer Claire van Kampen, has written a bespoke text for the actor at his most feather-light, ethereal and saint-like, adjectives that are equally applicable to the beautiful sound of Farinelli, which in real life would have been purer and more boyish; a counter-tenor is not emasculated and is in effect a falsetto… There's a Pirandellian twist at the end… which suggests a further confusion of character van Kampen, whose writing is more serviceable than scintillating, might have worked more integrally into the structure.
Michael Billington
Guardian
★★★★
With Mark Rylance as the king, the evening is guaranteed success, but what it really proves is how ideally suited this intimate space is to the mix of drama and music… With its calculated anachronisms and Shakespearean quotations, Van Kampen's script is sometimes a bit knowing, but it interweaves story and song excellently… The role of Philippe, first seen fishing for goldfish in his bedroom, also gives Rylance the chance to display the king's whimsical strangeness… It all makes for a richly unusual evening that not only demonstrates music's curative power for a mad king but its ability to offer spiritual uplift to just about everyone else.
Henry Hitchings
Evening Standard
★★★★
Rylance locates the humour in Philip's character, even in the depths of misery. When we first see him, he is trying to tempt his pet goldfish to eat the bait he's dangling in its bowl. His unhappiness is conveyed with stammering poignancy, but there's always a crowd-pleasing playfulness… Farinelli is played with careful restraint by Sam Crane. But when it's time for the great castrato to show his vocal agility, Iestyn Davies assumes responsibilities… Davies' sound is always sophisticated and crisp – and his high notes are ethereal. John Dove's acute production delights in the candlelit intimacy of the Sam Wanamaker Playhouse, and musical director Robert Howarth marshals a small and impressive band.
Paul Taylor
Independent
★★★★
Enchantingly directed by John Dove, the drama sends speculative probes into the real-life story of how the only thing that could distract Philippe from his mental torment was the voice of Farinelli… A love-triangle is also intimated but one in which Philippe is a weird kind of participant. He's often cruelly dismissive of his wife once he's dragged the three of them off to live in a hole in the forest where they can harmonise with the music of the stars… Keenly insightful about both music and melancholy, this is a beautifully wrought two-hour miniature.
Dominic Maxwell
The Times
★★★★
Rylance is a master of his craft who can hint at infinite depths while appearing to do very little… Melody Grove proves the perfect foil as his wife, Isabella. She shows us a woman exhausting her love for her husband as she tries to hold him together. It's the arias, though, that truly match what Rylance is giving us. Sam Crane plays Farinelli as likeably egoless. Yet his singing of arias by Handel and other composers is handled by Iestyn Davies, the counter-tenor, in identical period costume. A quirky play is made into a great evening by Davies and Rylance.