Critics acclaim Let the Right One In at Apollo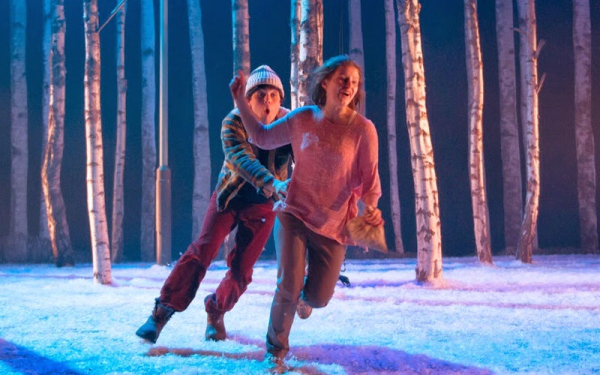 Michael Coveney
WhatsOnStage
★★★★★
It's as unexpected, and as unusual, as anything on Shaftesbury Avenue in recent years, with extraordinary design by Christine Jones, eerily blue and brilliant lighting by Chahine Yavroyan and a soundscape by Gareth Fry that sets new standards in atmospheric scariness… at the core are the two original performances of Rebecca Benson as the blood-curdling Eli… and 18 year-old professional debutant Martin Quinn as Oskar, so gawky and gangly that he seems to collide with his own knees and elbows… They are both several years older than Lindqvist's characters, so that one crucial element of corrupted pre-pubescent innocence is lost. But that's transformed into a virtue, as the collision of adult and young adult sensitivities is more satisfying… The climactic blood bath includes the famous swimming pool scene, carried out in a scenic transformation and physical effort that are literally breath-taking… Let the Right One In takes you to the edge of human experience, and perversity, with eye-opening candour, beauty and ingenuity.
Lyn Gardner
Guardian
★★★★★
John Tiffany's exquisitely beautiful and heartbreakingly sad staging of John Ajvide Lindqvist's cult Swedish vampire novel turned movie is set in a silver-birch world that is as much in an icy grip as Narnia. Christine Jones's eerie, atmospheric design even features a Narnia-esque lamp-post, one whose dim light illuminates something nasty: a body trussed upside down from a tree like a pig, so the crimson blood drains out… Tiffany and writer Jack Thorne swap the social commentary of the original Swedish film for something less tangible but every bit as unnerving, exposing a community caught in the wintery grip of its own ferocious hungers and confusion over what it means to be a man, or indeed a human. This is a kind of coming-of-age love story, but a desperate one… so painfully tender that, as you watch the show, if feels as if layers of your skin are gradually being flayed from your body.
Kate Bassett
The Times
★★★
…the auditorium roof is now sealed off, behind a protective shield (decorated with silhouetted trees under a night sky). The venue has also undergone welcome refurbishments including a bright, newly gilded foyer. Meanwhile, on stage, John Tiffany's cast aim to be spine-chilling, playing out Lindqvist's tale of supernatural serial killings… Benson and newcomer Quinn are names to watch. Tiffany's collaborator, choreographer Steven Hoggett of Frantic Assembly, interweaves stylised dance sequences, and Ólafur Arnalds' score is a mood-enhancer, mixing orchestral strings and furious electronic beats… That said, even if Lindqvist's 2004 book and 2008 film preceded Twilight, have we now supped full of vampire sagas? Jack Thorne's dialogue for this stage version can sound bald, Mendus seems wooden, and the bullying isn't wholly convincing.
Fiona Mountford
Evening Standard
★★★★
In other circumstances, all the buzz around this production would centre on the fact that it is the first West End transfer for both the National Theatre of Scotland and for the Royal Court regime of Vicky Featherstone… Yet the re-opening of the Apollo after the events of December, when part of the roof collapsed during a performance of The Curious Incident of the Dog in the Night-Time, means that these are not other circumstances. Extensive refurbishment work now sees the balcony level closed off and a wonderfully evocative gauze-projected cyclorama, by the show's designer Christine Jones… There's an air of wistfulness, longing and loneliness to John Tiffany's appealing, occasionally ethereal production, which is underscored by a thrillingly haunting soundscape from Gareth Fry. There are cherishable moments of tender, tentative romance as the two misfits disregard all practicalities and start to fall for each other. Benson is sensationally good, conveying just enough of an idea of otherworldliness… I'd like to say that the applause at the end raised the roof. But, given the context, that might not be quite the expression to use.
Charles Spencer
Daily Telegraph
★★★★
There are some gratifyingly scary scenes in this touching and quirky vampire drama, but mercifully none as terrifying as the moment when the ceiling collapsed at this theatre last December… I have to confess that I have never quite understood the current teenage obsession with vampires, though I suspect it has a lot to do with the feeling of alienation and difference that are such a feature of adolescence.
John Tiffany's fine production… strikes me as being every bit as good as the disconcerting original movie… A cyclorama of a moonlit forest brings Christine Jones's superb design of a snow-covered forest right out into the auditorium. Her design sets all the action in a dark, snowy forest… Martin Quinn proves both funny and touching as the gauche teenage hero… Rebecca Benson manages to be scary while also conveying an impression of deep hurt, and the tenderness between these two misfits is beautifully caught…
This production does something remarkable. It wrings from the schlocky vampire genre a work of genuine artistry and depth of feeling.