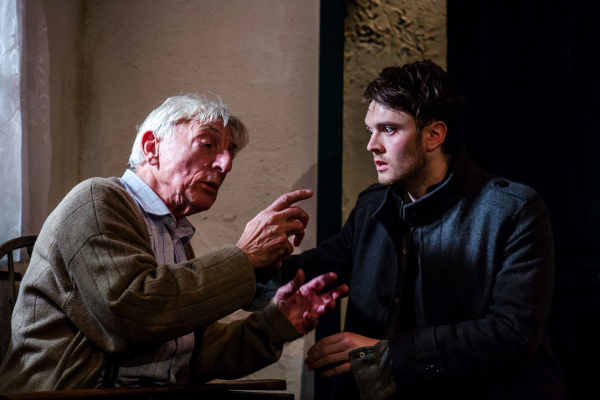 In rural Ireland, it's said, suicide rates among young men are the fourth highest in the world. The lights are going out all over the south-west, according to first-time playwright Fiona Doyle, whose fictional town of Coolatully can't even raise a hurling team anymore, let alone a pub quiz quorum.
Her play is this year's Papatango prize-winner – the competition, which unearthed Dawn King's Foxfinder, has a good six-year track record – and she deserves it, not so much for Coolatully itself but for the promise of more to come.
It's no fault of hers that the world she conjures, of sorrow, loneliness and talk of emigration, is so familiar from the plays of Brian Friel, Tom Murphy and Conor McPherson. Her pub and deflationary chat of disappointment are recognisably crafted along the lines of Billy Roche rather than Enda Walsh. It's surprising, and fascinating, to hear a female voice raised in this company of cacophonous Celts.
The damaged sportsman, too, is a stock figure in American drama, but Doyle makes something genuinely touching of Kilian's memories of a hurling match final in Croker Park, as he is caught in a dream-like flashback at the very moment of his criminal weakness in the cottage of old Jimmy.
Kerr Logan's Kilian is too mumbled and under-projected – David Mercatali's production runs out of puff half way through – but he has the Leonardo DiCaprio-style good looks of a fallen idol, first seen keening over his brother's grave then tumbling his girlfriend Eilish (Yolanda Kettle) out of the pub and into her bedroom, tearing off clothes as they go.
Kilian's best friend Paudie (Charlie de Bromhead) is home from the clink after serving a six-month sentence ("How Mandela did it, I'll never know!") and this prompts talk of a new life elsewhere, a ticket to Australia perhaps, for there's zilch for them here on the doorstep. Eilish has landed a job as a teacher, ten minutes from Bondi Beach. But the triangle of camaraderie is threatened by tensions before they get started.
Even at 98 minutes uninterrupted playing time, the play takes too long to end, and the ending is unclear when it comes. But you do get the message of these desperate no-hopers stuck in the boggy backwoods; Kilian's good side is seen in his friendship with old Jimmy, whom Eric Richard plays with a fine blend of arthritic vigour, rage and galloping nostalgia.