Confessions of a Box Office Manager: A messy meeting with the King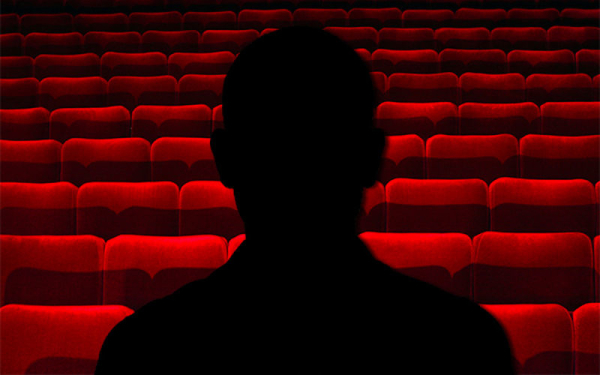 Does anybody remember that bit in the musical The Producers where, at one farcically fraught moment involving yet another Mel Brooks loonytune character, Nathan Lane's Max Bialystock slumps in comic despair next to a bust of a man's head in his office, and whimpers to the statue "they find me! They always find me!" or words to that effect?
Well that moment came back to me today as, due to an unforeseen staffing shortage the details of which I won't bore you with, I spent an almost uninterrupted ten hour stint on the box office counter dealing with some of the more, er, colourful and eccentric elements of the general public.
The day started off somewhat dramatically when two ladies from the day seat queue got into a near punch-up at my window over who had actually been waiting the longest. I didn't get involved initially partly because my latté hadn't kicked in yet but mainly because I had no idea who was in the queue first. In the end though, I had to intervene as they showed no signs of hurrying it up and stood there snarling at each other, handbags raised like offensive weapons.
"YOU" I pointed with my biro at the more aggressive and vocal of the pair "need to pipe down and get a sense of perspective. There are more than enough seats to go around…" (she recoiled as though I'd slapped her) "and you" – I gesticulated at her opponent – "need to give me £50, then I will give you some fabulous seats, and you will move along. This is ridiculous."
Surprisingly, this bold approach worked superbly and they were both good as gold after that although the first one did give the second lady evils as she turned away from the counter. Still, there was no spitting. Not in my foyer.
I am immediately assailed by an extraordinary smell, a gag-worthy amalgamation of silage, chip fat and ammonia.
Then during the matinee incoming there was a particularly bonkers, garishly attired woman who strode in, firing random questions off into the air but to nobody in particular – where do I go? where's the bogs? is the bar open? what's my seat number? who am I?" (OK I made that last one up). She then proceeded to stand mid-foyer and screech "WELL?! Isn't anybody gonna f***ing HELP me?!" Frankly not with that attitude, no. Luckily, the house manager intervened.
These, and sundry other human irritants, were as nothing however next to what happened mid-afternoon when I got back from my lunch break. I had carelessly left my computer logged in while I was out and was gingerly checking my Facebook wall in case "I" had unexpectedly posted anything wildly outrageous and inappropriate in my absence, when he arrived. (I'm not being paranoid by the way, my team have form for this sort of thing: I've left my computer unattended in the past and returned to discover that "I" had told the world via Facebook all sorts of embarrassing things, such as "I'm so damn sexy, why oh why does nobody else get it?" – to be fair, I COULD have written that – or "I could murder a sausage right now, any kind, not fussy", or, most bizarrely, "my love balls taste funny"…I'm not actually sure what that even means.) Anyway, I was wrapped up in that when I hear the colleague to my left sending the person at his window over to me, using that old chestnut: "my computer has just frozen. Oh look, now it's crashed completely!"
Trying very hard not to roll my eyes I am immediately assailed by an extraordinary smell, a gag-worthy amalgamation of silage, chip fat and ammonia. The gentleman standing unsteadily at my window has seen better days: I would put his age at between 70 and 80, one eye is staring manically while the other is twitching uncontrollably, what little hair remains is arranged into a sparse comb-over with, rather touchingly, a kiss curl arranged in the middle of his forehead, his duffel coat is matted and greasy, and he is wearing a couple of enormous diamanté signet rings. And his nose is running, constantly. Taking all this in, I actually start to worry less about the pungent smell and feel more like giving him a hug and a mug of hot tea.
When he speaks it's with that unmeasured boom that comes of not having been able to actually hear himself for years, maybe decades.
I can see my entire workforce collectively heaving with silent hysteria.
"HELLO THERE" he bellows "MY SISTER TOLD ME I WOULD LOVE THIS SHOW SO HERE I AM."
"Here you are indeed. Hello to you!" I reply, trying not to wince at the sheer volume coming from him and also not to shout back in return, "when would you like to come? Tonight?"
"OH YES! TONIGHT! I'VE GOT A PERFORMING ENGAGEMENT TOMORROW NIGHT. IN CAMBERLEY."
Half of me wants to get this over and done with – I am acutely aware of the colleagues around me gaping like fools while the usher cashing up the merchandise takings on the other side of the foyer has stopped her counting and is staring over – while the other half is dying to know what sort of performance the lucky residents of Camberley will be enjoying tomorrow night. In the end I needn't have worried as the information is forthcoming.
"I'M AN ELVIS IMPERSONATOR. THE OLDEST IN THE BUSINESS." (No kidding.)
"Um. Gosh. I mean, wow. And – and, you make a good living at that do you?" I restrain myself from facetiously asking which stage of The King's life my new friend portrays. The kiss curl makes sense now. Well, a bit.
In answer to my question he stares fixedly at me (with one eye anyway) and starts singing:
"LOVE ME TENDERRRRRR, LOVE ME SWEEEEEET, NEVERRRRRR LET ME GOOOOOO."
I have to admit that he's not half bad. Okay, he's a bit quavery but, come on, this is an entirely impromptu performance. I am prevented from fully enjoying it though as out of the corner of my eye I can see my entire workforce collectively heaving with silent hysteria. I am trying desperately not to join in with the giggling so I stare back hard into his good eye and try my best to think about something deadly serious.
"YOOOOOU HAVE MADE MIYYYY LIIIIFE" (he takes an enormous gulp of air…funny place to take a breath) "COMPLETE, AND I LOVE YOU SOOOOO"…and whatever was dangling from his nose coming crashing down on to my seating plan on the counter. I'll be getting an antibacterial wipe onto that when he goes.
I clear my throat "that was brill–" but he's not done yet…
"LOVE ME TENDERRR, LOVE ME SWEET, ALLLLL MY HOPES FULLFILLLLLED" (Splat! Another dewdrop hits the deck) Over his shoulder I can see the merchandise lady doubled up in paroxysms of mirth. I am trying SO hard to remain in charge of the situation…
"FOR MY DAAAAAAARLING, I LOVE YOOOOOU AND I AAAALWAYS WIIIIIILL."
"Gosh, look, yes, well done you."
"I'M GOOD AREN'T I?"
"Yes, yes, you certainly are. Now, about your ticket…"
"I'M ON YOUTUBE, TWITTER, FACEBOOK, INSTA…"
"Right, good. So did you want one seat or…"
"WENT ON X FACTOR TOO. BUT THEY DIDN'T PUT ME THROUGH"
"Oh dear that's a shame. So…"
"BUT DERMOT LIKED MY KEKS. LOOK!" He lifts up a bony leg and I lean over to see. Good grief, underneath the grubby duffel he is wearing a shiny white and scarlet jumpsuit reminiscent of Vegas Elvis…this is all getting more surreal by the minute.
The cleaners may need to give that box an extra blast with the air freshener come Monday
"Fabulous, yes. So, let's talk about a seat for you for this…"
"WOULD YOU LIKE ANOTHER SONG?" (Dear God NO)
"Well yes I'd love one but I'm afraid I have a number of things to be getting on with" (why isn't there ever a waiting queue when you could actually do with one?!) "so is it just a single seat?"
"YES. BEST YOU CAN FOR TWENTY FIVE POUNDS."
That price is the lowest we offer but the only seat left at that rate is right in the middle of a row in the Upper Circle. Based on wanting to spare him any embarrassment or discomfort when the patrons around him complain to house management about the smell – which they surely will – I make the executive decision to discount a top price box seat down to £25 and take off sale the other seats in said box. That should keep everybody happy: he has paid the price he wants, he gets a much better view, and there won't be any snark or unpleasantness from other customers about his distinctive aroma, although the cleaners may need to give that box an extra blast with the air freshener come Monday. I just hope he doesn't decide to sing along.
He hands over his cash, takes his ticket and reaches through to shake my hand. I also offer him a tissue – that seating plan is now virtually waterlogged – and he grabs the whole box. Good for him, I'll buy some more on the way home.
After he leaves, the colleague whose computer was mysteriously incapacitated earlier, turns to me, his face red and his eyes bleary from silent mirth, and says "oh babes, I don't know how you coped with that."
"Well, you know, it makes this job a lot more colourful. That bloke is a genuine character" – I am determined not to get drawn into the hysteria, and furthermore I am now attacking the seating plan with a wet wipe – "you cover the front for a bit. I'm going into the back office for a brief lie down."
"But…when will you back?"
"When I'm back. Deal with it" and off I go.
I only manage about ten minutes sitting in the quiet at the back before I hear a queue building up in the foyer. Typical.
I think my decision to sit Elvis in a box is the right one…he will have a great time in there, no other audience members will be affected, I made a sale, the counter is clean…and tomorrow: Camberley. But hey, nobody died.