CBBC's Dick and Dom and West End regular Carley Stenson join Spamalot cast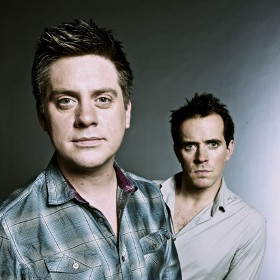 CBBC presenting duo will be swapping da bungalow for the West End stage when they join the cast of Monty Python musical Spamalot later this year.
The pair, who will play King Arthur and Patsy, will star in the show for six weeks from 2 December 2013, and will both be making their West End debuts.
Dick and Dom, full names Richard McCourt and Dominic Wood, have presented shows including Dick and Dom In Da Bungalow, Absolute Genius With Dick and Dom and Are You Smarter Than A 10 Year Old.
Dick (Richard McCourt) said; "I've always been a huge fan of all things Monty Python and so am very excited about the fact that I'm getting the chance to prove myself as King Arthur and take hold of the mighty Excaliber."
Dom (Dominic Wood) said; "I have my dad and older brothers to thank for bringing me up on Python. We watched it as much as watching Kids TV, so singing "Always Look On The Bright Side Of Life" on stage will be a career highlight!"
The two will join West End regular Carley Stenson, who joined the cast as the Lady of the Lake last night playing the Lady of the Lake. The former Hollyoaks star, who played Steph Cunningham in the soap for a decade, has stage credits including Shrek the Musical, Legally Blonde and West End Men.
Spamalot recently started a new performance schedule, which includes two shows on Fridays at 6pm and 9pm.