Casting news: Nikki Davis-Jones joins West End cast of Wicked and Ashleigh Gray goes on tour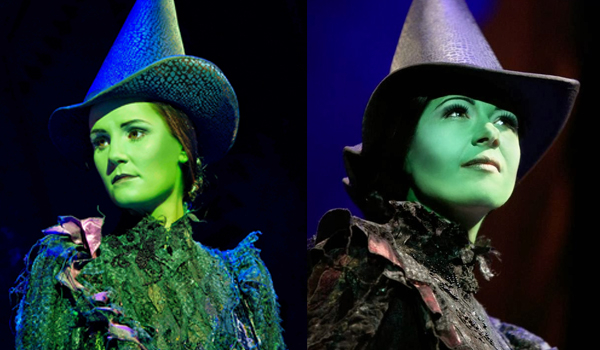 It has been announced that Nikki Davis-Jones, who is currently playing Elphaba in the UK tour of Wicked, will join the London production from Monday 27 October 2014. Also joining the cast are Liza Sadovy (Madame Morrible) and Philip Childs (Doctor Dillamond).
Willemijn Verkaik (Elphaba), Sue Kelvin (Madame Morrible) and Paul Clarkson (Doctor Dillamond) will all play their final performances on Saturday 25 October 2014.
Savannah Stevenson (Glinda), Jeremy Taylor (Fiyero), Martyn Ellis (The Wizard), Sam Lupton (Boq), Katie Rowley Jones (Nessarose), Emma Hatton (Standby Elphaba) and Sophie Linder-Lee (Standby Glinda) all continue in their roles.
The London production has been seen by almost 6 million people since its premiere in September 2006 and is now the 10th longest running show in the West End.
Further casting has been announced for the UK tour of Wicked, with Ashleigh Gray joining to play Elphaba opposite Samuel Edwards (Fiyero) from Tuesday 16 September 2014 at Liverpool Empire Theatre. They will be joined by Steven Pinder (The Wizard and Doctor Dillamond), Richard Vincent (Boq) and Jacqueline Hughes (Standby Elphaba).
Current cast members Liam Doyle (Fiyero), Dale Rapley (The Wizard and Doctor Dillamond), George Ure (Boq) and Jemma Alexander (Standby Elphaba) will all play their final performances on Saturday 6 September 2014 at Birmingham Hippodrome.
Emily Tierney (Glinda), Marilyn Cutts (Madame Morrible) and Carina Gillespie (Nessarose) all continue in their current starring roles.
The tour is currently at Leeds Grand Theatre (until 5 July 2014) and continues to Birmingham Hippodrome (9 July to 6 September 2014); Liverpool Empire Theatre (16 September to 11 October 2014); Southampton Mayflower Theatre (21 October to 15 November 2014); Edinburgh Playhouse (19 November 2014 to 10 January 2015); Plymouth Theatre Royal (20 January to 14 February 2015); Bristol Hippodrome (18 February to 21 March 2015); Sunderland Empire Theatre (31 March to 25 April 2015); Aberdeen His Majesty's Theatre (5 to 30 May 2015) and concludes at The Lowry in Salford (3 June to 25 July 2015).
Based on the international best-selling novel by Gregory Maguire that re-imagined the stories and characters created by L. Frank Baum in The Wonderful Wizard of Oz, Wicked tells the incredible untold story of an unlikely but profound friendship between two sorcery students. Their extraordinary adventures in Oz will ultimately see them fulfil their destinies as Glinda The Good and the Wicked Witch of the West.