Brief Encounter with … West Side Story's Louis Maskell
Louis Maskell arrives in Manchester soon to play the iconic role of Tony in the evergreen musical West Side Story, which is at the Palace Theatre from 10 December – 4 January. We caught up with him to find out about him and the show.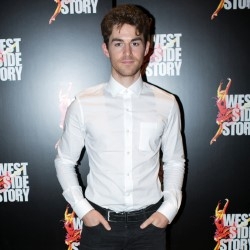 What made you want to be a performer?
I was immersed in the performing arts from a very young age, ranging from musical theatre to concerts. I had a pretty extensive imagination as a boy and the thought of "playing" every night, in front of an audience fascinated me. I wanted a piece of it! My parents are trained musicians so they were and are very understanding and encouraging!
What would you have done instead?
I think I would've played football. I was as obsessed with my local team, Crystal Palace FC, as I was with theatre and I was juggling going to football practice with dancing lessons. Obviously theatre prevailed, but there's always a part of me that dreams of walking out at Selhurst Park [Crystal Palace's football stadium].
What's the best musical you have seen and why?
Saturday Night Fever at the London Palladium and The Lord of the Rings are two musicals that are really important to me. The former cemented theatre being the path of choice. The music, the orchestrations, the dancing, the story! It just blew my head off! I wanted to be Adam Garcia for a long time! The Lord of the Rings caught my imagination. I love the books, so to have them live onstage … Well, I was won over even before it had opened. Subsequently I thoroughly enjoyed it even if my mum fell asleep mid-performance!
Why do you think West Side Story has stood the test of time?
Well, first and foremost the book is timeless. Whatever generation the themes of the piece can be related to. On top of that you have some of the best tunes ever penned and choreography that is so innovative.
What's your favourite song in the show and why?
I think "Something's Coming." It's so full of promise and ambition; it's lovely to play.
What do you enjoy about touring?
I enjoy that family atmosphere a tour creates. Also getting to see the UK. We're so quick to leave our country to go on holiday, but there are so many wonderful parts of our island!
Why should audiences see the show?
Because it's a masterwork! It's very rare a piece of this ilk is staged so see it while you can (but bring a box of tissues)!