Brief Encounter with…The Easter Funny Show's Tam Ryan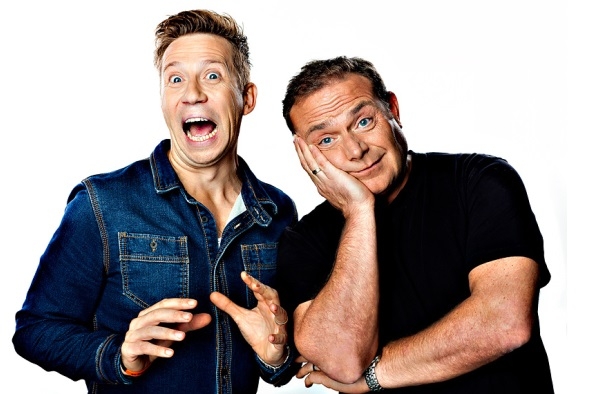 Tell us about the show. What can audiences expect?
Okay! Well effectively there are two threads to The Easter Funny Show. One of the show's focuses is about John and I actually putting the show itself together, so at times the whole thing becomes a show within a show….!!! In the midst of all this there is a classic take on the age old narrative of good vs. evil which really gives the show a 'panto' feel.
In brief….
John and I, who as first time producers are busy trying to stage a show for the Easter holidays, have suddenly been entrusted as guardians as the much cherished Golden Egg of Easter. We must protect it at all costs from the evil clutches of the show's cartoon villain "Bad Egg Billy". It becomes clear to us that should we fail in our task, the Easter holidays will be cancelled with immediate effect and every Manchester school-kid will be forced to return to the classroom without even having the chance to peel the foil from a chocolate Egg…. so you could say, the stakes are high! Naturally, this kind of narrative generates a range of sketches and comedy escapades as we pursue our mission, with varying degrees of success and failure, to save Easter!
How did you meet John Thompson?
Bizarrely – we first met around 15 years ago at Zoe Ball's wedding! Zoe is my cousin and a good friend and former house mate of John's. John's since been to see the pantos at the Opera House with his family and came to stage-door after seeing one of the show's to say how much he enjoyed my performance, which to be honest was very humbling at the time as I have always been a big fan of his work. We kind of hit it off from there, had a few coffees and lunches and became good mates really.
Who's idea was it to stage this Easter show?
I'd had the thought for some time that I'd like to take a few of the elements of a traditional pantomime and present them in a new format at a different time of year. I pitched it to John over lunch in Manchester one afternoon and he was interested, so we rolled the idea around and eventually decided to give it a go as a joint venture.
You're a regular in the region's panto. Apart form the money – what keeps you coming back?
Lots of things. Like the majority of performers, I get a massive buzz of being on a big stage in front of a packed house and entertaining people and to do that in the context of a big, lavish production, which the Opera House pantos always are, is a real thrill.
Your rapport with kids in the audience is what makes these pantomimes such a hit. Do you like children?
Of course! I've got to… they're the future and I've got two of them myself. What's brilliant and magical about doing comedy with kids is their totally unbridled honesty. That's where the laughs come from. For example in the song-sheet, if I ask a 6 year old boy what he wants to be when he grows up and he comes back with "a tax inspector… and an astronaut at weekends" which actually happened one year, it's just one of those great, unbeatable moments. Anyone will tell you that the best comedy is always based in truth and that's what you always get from kids.
The Easter family theatre market is not really exploited like Christmas. Why do you think this is?
I agree, which was one of the factors behind the vision of The Easter Funny Show. To be honest I don't really know why Easter is ignored so much when you think how successful live theatre can be when pitched to the family market. The weather is at best unpredictable in April which itself can limit you entertainment options so giving families the chance to see a live show with laughs aimed across the spectrum seemed like a good idea to us!
Is this show for all ages?
It genuinely is! In much the same way as a good panto should deliver laughs and adventure for everyone, The Easter Funny Show was written to appeal to kids and parents alike. I've sat through many a 'kids show', looking at my watch every five minutes, not because the production or performances were necessarily below par, but because there was nothing in it for me – the grown-up! … the one who's bought the tickets. I think, you the parent should feel an entitlement to be entertained too and that's something that The Easter Funny Show will try and address
What do you like about performing on stage?
Everything really. The buzz, the feeling, the energy. It's something I can't really imagine not doing.

How do you deal with hecklers?
I'd like to say "with calm assurance and clever wit", but every honest comic will tell you, that doesn't always pan out. Every heckler is different so the best way to deal with one is to listen carefully to what he or she has to say and respond with an honesty of observation, unless that is, the heckler is rowdy and incomprehensible – in such circumstances, more basic tactics and comeback lines may need to be deployed. Generally in a heckle stand-off, what you've got to remember is that you, the comic always hold the moral high ground because the heckler broke the etiquette and interrupted! All you have to then do is seize that power through a witty retort or two and if you are successful, the audience are recruited as your allies. The heckler at this point generally retreats as he is now faced with an opposing army that one voice simply cannot take on. That's obviously quite a military analysis of heckling… but it works for me!
Why should people come along and see this show?
It's new, exciting, and will be entertaining for all the family! We also wanted to make the show affordable to the average family and hopefully we've managed to achieve that. We're very, very excited about the cast we have assembled and John and I are genuinely very pleased with how the writing has gone. Plus, not everything has been scripted so there is a fair amount of space for improvisation which is always fun. More than anything though, what we've got here is a show that doesn't take itself too seriously, that wants to entertain kids, families, parents, grand-parents… you name it…. Basically, if you want to have a laugh… BOOK YOUR TICKETS!
The Easter Funny Show is at the Manchester Opera House from 11 – 12 April.