Brief Encounter with… Prizewinning tenor Michael Fabiano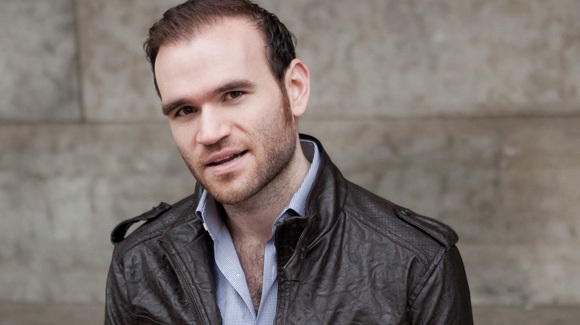 On Friday 21 February, the American tenor Michael Fabiano was presented with the 2014 Beverly Sills Artist Award that recognises "extraordinarily gifted singers between the ages of 25 and 40, who have performed in featured solo roles at the Metropolitan Opera".
At 29, he is one of the youngest singers to receive an award whose previous recipients include Joyce DiDonato and Bryan Hymel.
Fabiano made his name on this side of the Atlantic at English National Opera, with eye- and ear-catching turns as the Duke in Rigoletto (the last hurrah of Jonathan Miller's celebrated mafioso production) and as Gennaro in Mike Figgis's controversial staging of Donizetti's Lucrezia Borgia.
In 2014 he'll be back in the UK, this time at Glyndebourne where he'll sing Alfredo in this summer's new production of Verdi's La traviata.
Congratulations on winning the Beverly Sills Award. Does a prize like that help your career or is it just the icing on the cake?
It came as a very big shock! It happened during a run of Die Fledermaus at the Met and was completely unexpected. I don't think prizes matter that much in terms of career, but as an affirmation of talent they're a great help.
It's barely three years since you sang Gennaro in Lucrezia Borgia at English National Opera, yet so much has happened to you since then. What are your memories of that controversial production?
I had a wonderful time on it. ENO is a company very dear to my heart: they gave me one of my first professional experiences with Rigoletto. We had a great team to work with, especially the conductor, Paul Daniel.
With Mike Figgis I learnt how film directors see characterisation in a different way – through a lens – and that gave me a new angle to my craft. Since then, when I've done work for video I remember what he taught me about the small things, like how to use my eyes. In a big auditorium they might not be too visible but when there are cameras it makes a huge difference.
Your San Francisco performance of the same role opposite Renée Fleming has just been released on DVD. How was that experience different?
I had the blessing of working with another great cast. They were consummate professionals so it was really rewarding. I tend to appreciate singers who care deeply about the music. And because I'd already done the opera I was able to apply the experience of that first time and grow in the part. The San Francisco Lucrezia Borgia was a more traditional production and my character emerged more clearly as I knew what I was searching for, having done it before.
Is your talent God-given or the result of hard work?
As a child I always sang in the church choir and at school. There are many musical people in my family, and my grandmother was a concert pianist. I didn't plan on a career, though; I just studied it casually because it's in my family, then I discovered a vocation.
I found that when I work on something I stick at it, full steam. After I graduated I immersed myself in Italian over the next three summers. I dived into the deep end – and at five metres, not two!
I didn't craft my voice; it's what was already there. My first teacher, the tenor George Shirley, told me to be myself and not to copy other artists. I don't listen to other singers when I study a role because I want to formulate my own ideas.
At the moment your voice is ideal for the romantic lyric tenor repertoire, yet there's a lot of power behind it. Do you have ambitions to explore any heavier roles in years to come?
I can't predict the future, although I will say that I always think in a short- and long-term arc. Most people tell me to enjoy the moment, and I do, but one has to have contingencies for the future and know what's going to happen down the line. So I do look at other repertoire, though I can't pinpoint the moment when all that will shift. But musically I'd certainly like to go in other directions one day.
You'll be spending several months in Europe this summer, first with Faust in Amsterdam and then in the UK with La traviata. Do you enjoy travelling far afield or is it a chore that goes with the job?
As a child I loved airplanes, especially visiting the pilot during flights when that was allowed. Nowadays I don't get giddy about airports any longer, but I do love the thrill of going to new places. Some moments are difficult, when I'm alone, but that comes with the territory. If you enter this business you have to sign on the dotted line and accept it, which I do, happily.
I do have a coach, Laurent Philippe, who accompanies me on a number of my engagements so that we can work together. He's a good friend and colleague, and he's my ears when I'm in the theatre. So I'm not always totally alone, and it's helpful to have a good listener when you're on the road. Once a production's opened he'll go away.
You're coming to Glyndebourne for La traviata in July and August. Alfredo's a role you're very familiar with, and you have expressed some clearly-held opinions about him. What can we expect from the production?
I don't know anything about the new production yet, because the director has changed recently [from Michael Grandage to Tom Cairns] so I don't know the principle behind it.
I like new productions as long as they have purpose and are not just done to show off. New ideas are important because opera has to evolve and be relevant to younger audiences. Imaginative directors give me a new arsenal of ideas, and it's important for any young singer to be receptive. As long as it's true to the opera itself I'm up for anything; it's only when it's not in line with what the composer and librettist had in mind that I'm not on board with it.
You've expressed an obligation to reach out to young audiences. How can that be done?
In America it's a tough proposition right now so we have to reach out to young people progressively. Recently I started doing classes with high school students aged 14 to 18 and I did lead-up sessions on Skype talking to about a thousand people across the country. It's important to use social media now. That's how we can connect with them.
Pricing's important too, and I'm really pleased that Glyndebourne has a scheme to encourage young audiences under 30.
I'm passionate about this. Digital concert halls and cinema relays are very good because they open the market place up and let people look through the window to see if they'll be interested in it – even if it's at a later point. Children will be the people paying to see us in ten or 20 years' time.
Does your meteoric rise ever frighten you? Does it ever feel as though it has a momentum of its own and you're being swept along by it?
I don't even think about it. Anyway, I don't see it as meteoric ! My job is simply the communication of beautiful art. The more I can make people satisfied with what I do, the happier I'll be.
– Read more about the 2014 Glyndebourne Festival here.