Brenda's Got A Baby at the New Diorama Theatre – review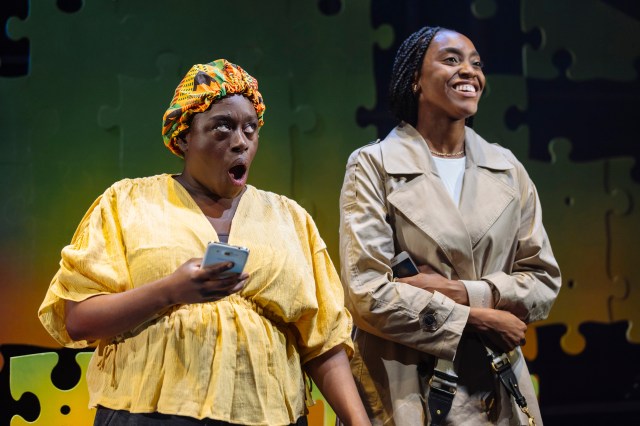 Jessica Hagan's new play, which follows her well-received debut Queens of Sheba and is again co-produced by Nouveau Riche, has a distinctly sitcom feel. It centres on Ama, who is nearly 30 and seems to be winning at the game of life, having got herself a degree, a career and a new flat. But there's a crucial baby-shaped thing missing, and her feckless schoolfriend Brenda (the title is the same as a Tupac song) has already managed to have five of them.
Ama is initially dismissive of the idea that a woman should be defined by motherhood, but becomes increasingly desperate in her pursuit of it when her ne're-do-well boyfriend Dami dumps her on her 29th birthday. In the second act, her wild decision-making threatens to spiral out of control as an overhead timer counts down to the big three-o.
Dramas about the biological clock are far from new, but this one comes with an intriguing cultural dimension. Ama is of Ghanaian heritage, and both her mother and sister allude to the religious and societal pressures that have led to her current frenzy. The latter is engaged to aspiring rapper Skipy, something she mentions has made her more accepted by the other women at church.
Anastasia Osei-Kuffour's production plays things hard for laughs, and lines are delivered with knowing. Many of the best ones come from Michelle Asante's scene-stealing mother Josephine, who pops up with wry observations and extols her daughters to move out so she can create a painting studio. The cast is completed by Anita-Joy Uwajeh and Jahmila Heath as the sisters, with Edward Kagutuzi and Jordan Duvigneau as their little and large partners, who all work hard to find definition in characters that feel thinly drawn.
TK Hay's jigsaw design seems to hint at the fragmented state of Ama's mind, though it doesn't serve much practical purpose. Its bright colours certainly fit the mood of the show, which at times feels it would be better suited to a television studio.
Hagan sneaks in some salient points about the shortage of Black sperm donors, and statistically poor outcomes for Black IVF babies. There's also a deeply moving climactic speech from Josephine to her daughter about the selflessness of motherhood. But despite these glimpses of profundity, the overall impression is of a drama that doesn't quite know what it wants to say.