What is to be said about a new production of Bouncers? There are plenty of performances of 30-odd-year-old plays, but not many have been in regular production throughout those three decades; among the fascinating facts in the programme is the information that at least one production of the play is on somewhere every week! Furthermore, this production on home turf is directed by the playwright (and original cast member) John Godber and, in a cast of four, three have already appeared in various productions of Bouncers.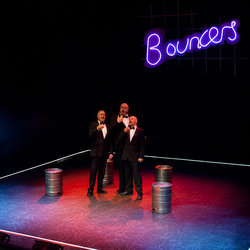 So any reviewer knows in advance that it will be capably done and an enjoyable evening, but will it perhaps be too predictable, a little stale? As it turns out, not at all. Bouncers can be a pretty rowdy affair (differing audiences have something to do with that), but this version is sly, wry and understated, just as funny and considerably more humane than some performances I've seen. The experience of John Godber and the veterans in the cast helps to make it an amiably ironic look at the 1980s.
Part of the joke of Bouncers is that the four cast members play many different parts without attempting authenticity. Throughout they wear the traditional garb of the bouncer while slotting into the parts of four girls on a night out, a similar male group, assorted club-goers (including several excruciating toffs), hair-dressers, DJ and anonymous drunks – and the fun comes from the accurate little details of speech and gesture for – let us say a teenage girl – delivered by a large bald man in a dark suit and bow tie.
Bouncers tracks through the sad and funny progress of all from early evening preparations to disco closing and the taxi ride home (or, for the bouncers, the peace of watching a blue film after work). Godber is as strong on the sad as the funny, in particular in the monologues by the serious-minded Lucky Eric (Robert Hudson) about the hopeless and helpless young people.
In a first-class cast, Hudson is joined by Adrian Hood, Dave Maccreedy and Chris Hannon, nicely contrasted, but all with the ability to put over the latest absurdity with a droll air of detachment. Needless to say, the ensemble playing is excellent, with a sort of casual precision. The production style is simple, stripped down, to the extent that there is not even a listed designer, though Graham Kirk's lighting helps to shift the mood during a long night for the bouncers, though certainly not for the audience.
Bouncers plays Theatre Royal Wakefield until 1 February, then tours to Hull Truck Theatre (4-15 February) and CAST, Doncaster (27 February -1 March).