Blink (Salberg Studio, Salisbury – tour)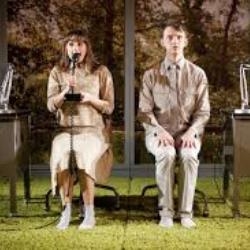 Starting off the Spring Season in the Salberg Studio in Salisbury is Phil Porter's sell-out production of Blink. It's not hard to see why it has received so much attention. It follows two unlikely people, Jonah and Sophie. Both have lived secluded lives and have suffered the loss of a parent. As chance might have it, they meet via baby monitor, and a relationship grows.
Within the intimacy of the Studio the audience shares and feels this quirky, funny and absorbing story. It is rather detailed and occasionally strays off the main narrative, but only to enable the audience to see the romance develop. Thomas Pickle and Lizzy Watts are simply lovable as the pair and you cannot help but yearn for them to come together.
At the same time it's a rather dysfunctional romance. One wonders if Jonah is on the autistic spectrum as he obsesses over Sophie to the point of stalking her. For Sophie though, who feels that she is ignored by the rest of the world, this behaviour is almost welcomed. Yet a burning question hangs over them: will the relationship work?
That said, not only do you see these isolated characters come together, but also develop as individuals within the bustle of London. Although the ending is not what you would expect, it leaves you optimistic about the pair's future. On a set that it is part interior, part countryside, with a forest backdrop and a grassy floor, it feels like a breath of fresh air.
A beautiful and engaging play; performed by an adorable pair. A must see!
– David Jobson