An Awfully Big Performance (Chickenshed)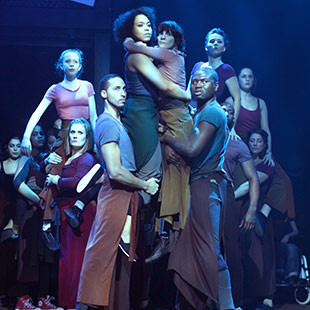 With a glint in many an eye, a standing ovation rounds off the 40th anniversary showcase of North London theatre Chickenshed.
An Awfully Big Performance is just that – a rotating cast of nearly 700 sees 460-ish people on stage for a vibrant, technicoloured showcase of its best shows from the last four decades.
It's been a fruitful journey for the pioneering company which began life in a real chicken shed in a field but now has a home in its own purpose-built, accessible theatre.
A recently adopted motto, Theatre that changes lives, means alongside professionals and theatre students, anyone can take part in crafting the show, with an age range of 7 to 70+ and actors with mental health problems or disability – but Chickenshed doesn't use those sorts of labels. Once you're on stage, you're just a performer.
That couldn't be clearer from the word go. Thrilling splashes of song and dance are Chickenshed's forte, on display in giant choreographed dance ensembles – from the bold, folky wedding dancers whirling in red skirts, to Cirque into Freefall, an apocalyptic vision of today's industrial workforce.
Freefall's comment on slave labour is powerful, dancers scrambling over each other to claim a place to hang on a portable metal frame that swings around the stage.
It's typical of the strong messages Chickenshed shares with its audience, from issues of race to equal opportunities for all, summed up in the finale, a touching song, "We Need Each Other", with the huge ensemble gathered – and it's incredible to see so many performers all looking out for one other.
Original music and the live band give the right touch of finger-clicking pace or strings-led melancholy to proceedings.
There's enjoyable stuff from the youngsters in full 1920s regalia for Making Great Movies, with promising vocals from the soloists and an imagination-boosting snippet of their popular show for young kids, Tales from the Shed, with a puppet leaping over glowing hoops in the darkness.
I wasn't convinced of the need for the first half's artfully beamed words of praise for Chickenshed from world famous British thesps like Alan Bennett and Trevor Nunn on boards decorating the stage – but only because the performances spoke for themselves. Chickenshed is a genuinely life-affirming gift to hundreds of people from audience to performer – here's hoping there are more like it in another 40 years' time.