Aladdin (Cast in Doncaster)
Aladdin is only the second pantomime at Cast Doncaster and, promising as last year's Cinderella was, it represents a real step forward in confidence, in individuality and in musical standards. Co-writer Matthew Bugg (Tobias Oliver collaborated on the script) seems to me the key figure in its success. The script is tailored to Doncaster (or, as it appears in Aladdin, Doncastistan) and under his direction the music is outstanding. Multi-instrumentalist Bugg (most notable here for his snake-charming-style clarinet playing) has scored the songs with clever oriental inflections for a cast of eight excellent actor-musicians.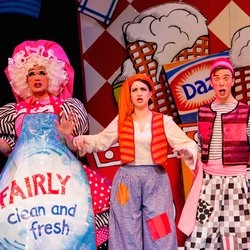 At the afternoon performance I attended, a dramatic blackout and gong opening, followed by a splendid opening number, kicked things off perfectly, but a very young audience, mostly from one school, was slow to respond to the first half humour. Possibly the script is a bit wordy and perhaps too much of the direct participation is reserved for late on, but some awesome accumulations of alliterative adjectives went unacknowledged and even some old gags (the "Give us a hand" routine, for instance) passed unnoticed.
An energetic and skilled cast kept things moving even during the flatter spells of audience reaction – and the children were firmly onside by the end – but a smart script no doubt benefits when there is a leavening of adults in the audience.
Alan French is an old hand at panto damedom and his Widow Twanky is pitched at the right level of worldly, but strangely innocent, vanity: his duet of culinary courtship with Patrick Bridgman's amiable Keenan Wynn lookalike of a Sultan is a delight. Director Kully Thiarai makes the point that the pantomime has plenty of feisty female parts and as Principal Boy and Girl Stephanine McConville and Sara Sadeghi have plenty of get up and go along with a powerful way with a song.
Those familiar with Clara Darcy's work will not be surprised that the poised and stylish Genie also plays trumpet. Danny Burns' Abanazar could use a touch more real villainy, but is a fine addition to the ranks of ineffective baddies; Brett Lee Roberts' droll Wishee Washee is an audience favourite; and George Bray makes much of little as the Chief of Police whose mam insists he comes home for his tea.
Ali Allen's designs look good, with scope for a certain amount of "magic", and Lucy Hind as movement director presides over a cheerful, animated and well-drilled ensemble of young people. Kully Thiarai may be looking at losing some 10 minutes of playing time, but generally has a show that ticks pretty well all the boxes.
Aladdin continues at Cast in Doncaster until 3 January 2015.