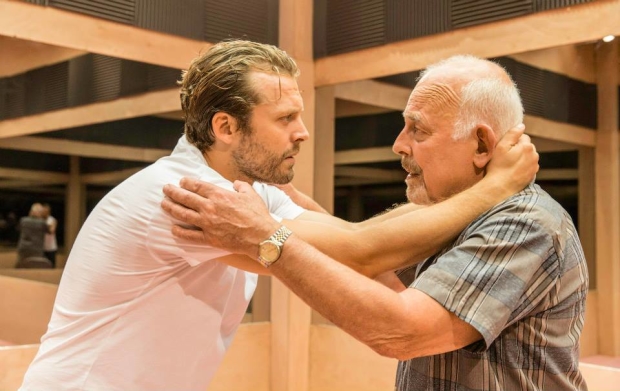 A hardboard room lined with two-way mirrors encases the action in this latest revival of Caryl Churchill's A Number. We can see in, they can see nothing but themselves and their infinite reflections. It's an effective and innovative visualisation of the moral predicament the characters face in this play that aims to predict the consequences of human cloning.
John Shrapnel plays Salter, whose desire to reattempt fatherhood through cloning fails when the hospital produces 20 replicas of his son Bernard instead of one, three of which are played in this production by Lex Shrapnel, casting that mirrors the 2006 production at the Crucible in which Timothy West played opposite real-life son Samuel (the original production at the Royal Court starred Daniel Craig and Michael Gambon).
There are strong performances from both Shrapnels, most notably from Lex who succeeds in presenting three versions of essentially the same person (or is it?) without resorting to hackneyed mannerisms. Questions are raised about nature vs nurture and father-son relationships as Bernard marks 1 and 2 question their relationship with their father whilst he struggles to come to terms with the implications of his actions.
But the star of the show is Tom Scutt's design. Venetian blinds withdraw to present the audience with a mirror image of themselves, an anxiety-inducing moment which reoccurs throughout the piece, invoking reflections (quite literally) on identity and our own uniqueness. The boxed-in set creates the voyeuristic feeling of watching a scientific experiment gone wrong and, as a by-product, solves the issue of seeing opposite audience members when a production is set in-the-round.
Whilst Churchill's rapid-fire text means the pace of the piece never drops, at 50 minutes long Michael Longhurst's production neither has time to inform nor develop the emotions and psychological states of the characters beyond surface level. However the combination of finely tuned performances and Scutt's design leave long-lasting vignettes in the mind that you will ponder long after the final curtain, or blind.
A Number runs at the Young Vic until 15 August 2015. For more information and to book tickets, click here