5 minutes with: Gillian Bevan – 'Being the first woman to play Cymbeline at the RSC was too good to miss'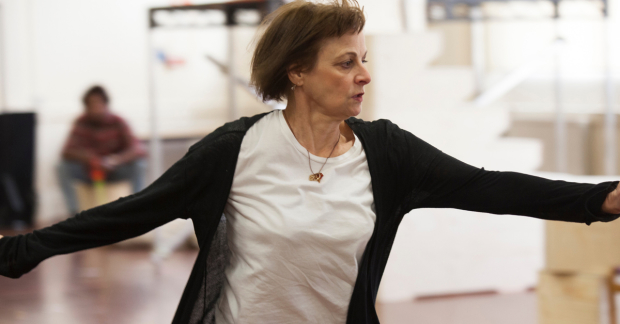 I had two totally inspiring teachers at school, an English teacher called Mrs Nelson and a biology teacher who was obsessed with Gilbert and Sullivan. I played a lot of the male parts in Gilbert and Sullivan and my lovely English teacher always chose me to read Henry V and Macbeth. Nobody else in the class seemed to worry about the fact that it was always me, I think they quite liked it in a weird way. I had no idea what I was saying but I just loved saying those words. That's what started it really.
Working with Alan Ayckbourn in Scarborough was really seminal for me. He was instrumental in teaching me everything I know about comedy. I found I could do stuff in rehearsals that would make Alan laugh and that was a great thrill. I stayed in Scarborough for about three years and we took two of his plays to America, it was a glorious time in my life.
Billy Elliot was really hard work but I was so grateful for it because it made me really fit at a stage in my life when it could have been so easy just to sit on the sofa and eat chocolate. It was deeply rewarding working with the four Billies who were all incredibly disciplined and talented. You're told not to get overly fond because they have to move on when their voices break but you can't help but get involved because they're so amazing. [When it closed], I felt enormous pride in what it had achieved but I do have a feeling that it will resurface again in the West End.
The Royal Exchange have given me, in my later years, amazing parts to play. Particularly doing the re-gendered Polonius with Maxine Peake in Hamlet which was a huge hit, it was the fastest selling show and won me a Manchester Theatre Award. I suppose I've been part of the last generation that was given opportunities in rep. I know Ian McKellen has been talking a lot about bringing it back. It can't all be London-centric or Stratford-centric. Stratford and the National are of course great paragons of buildings and they do amazing things but there's nothing like going to your local theatre and seeing great productions put on. I've spent years of my life staying at Scarborough and in Manchester and I think sometimes people underestimate how it allows you to be braver and make bolder choices. I think the rewards from that are immense.
The plot in Cymbeline is like Game of Thrones with iambic pentameter. It demands a lot from actors as the language is very dense and tricky but it's deeply rewarding once you get your head round it, it's an extraordinary play. It's a tragi-comic romance so it has weirdly dark comic moments but we're playing it for real, we're absolutely not playing it for comedy. I think ultimately, it's a play about redemption and it's set in a kind of dystopian future when Britain is on its uppers. It's appropriate that lots of the political themes to do with the Roman occupation have parallels to the referendum coming up about who are we as an island, what is our identity and whether we can be part of Europe. It deals with the same questions.
I've been happy to turn down work because this is too good an opportunity to miss to be the first woman to play Cymbeline at the RSC. Especially in a year when there's so many other extraordinary women, Glenda Jackson is doing King Lear, Michelle Terry is doing Henry V, Tamsin Greig is doing a female Malvolio. I like to think that Maxine and I put it back on the map and I hope that it's not just a fashion. In the age when we're recognising that there needs to be parity, that you can no longer have just two women in a company of 60, more and more directors are recognising how it opens up and reinvents the form.
There was very little discussion about the gender-swap, at the end it's not about gender, it's about what the part gives you. All we have changed is we call Cymbeline the Queen as opposed to the King. Obviously it's gender-based because I'm a female playing it so I have maybe a different sensibility than a man but there aren't any losses. Instead of having a wicked stepmother, we now have a dastardly duke which is an amazing part. Cymbeline is a complex but deeply rewarding play and definitely a play for our times, as all Shakespeare plays are.
---
Cymbeline runs at the Royal Shakespeare Theatre until 15 October, after which it plays at the Barbican Theatre from 31 October to 22 December.