2023 Musical Con schedule announced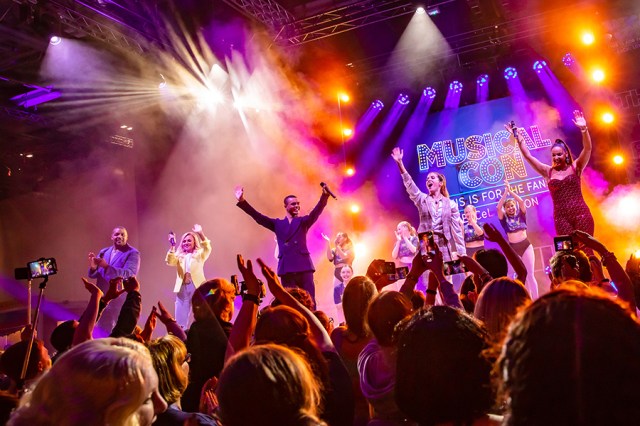 Musical Con which makes its return to ExCel London this month for its second year, has now announced a complete schedule.
With doors opening from 9am, there will be a main stage, a Webber Room, Larson and Sondheim Studios for workshops, "Stage Doors" for autographs and signatures and a "Backstage Theatre" location for panel discussions.
Main stage
Show and artist spotlights on the Main Stage on the Saturday will feature The Lion King (11am), Operation Mincemeat (11.45am), Arlene Phillips (12.30pm), Rachel Tucker (1pm), Broomsticks and Bubbles fan celebration (3.30pm). The main stage will open with a special performance (10am).
At 2pm on Saturday will be a "Star of Musical Con" event, with a Bat Out of Hell cast reunion at 3pm and a "Show Off" game show between casts of Six and Heathers (4.20pm).
On the Sunday, Claude-Michel Schönberg, the composer behind iconic productions like Les Misérables and Miss Saigon, will appear (10am), there will be a "Farewell to Heathers" (10.50am), a new shows spotlight including Ride, Babies, Bronco Billy and The Book Thief (11.30am), an Everybody's Talking About Jamie spotlight (12pm), a lip sync battle (12.30pm), a special performance from SVN (1pm) and a surprise cast reunion (1.20pm). From 2pm is a cosplay competition, and a turn from Lizzie at 2.50pm.
A "Revolting Children" singalong will take place at 3.20pm, with a Newsies cast reunion at 4pm, and a closing ceremony at 4.30pm.
Appearing in the opening and closing performances will be Aimie Atkinson, Trevor Dion Nicholas, Sophie Evans, Alice Fearn, Ben Forster, Lucie Jones, Shanay Holmes, Miriam-Teak Lee, Jon Robyns and Layton Williams.
Backstage theatre
On the Saturday, the backstage theatre will host a panel on social media and musicals (10am), Disney Puppetry (11.30am), Queendom fans (12.15pm), choreography Dancing Through Life (1.10pm), stage make-up and wigs (2pm), the year in review (3pm), mental health and musicals (3.40pm) and casting direction (4.20pm).
On Sunday will be a panel about breaking into the West End (10am), creating musicals (11am), access in the West End (12pm), Black excellence (1pm), the ESEA community (2pm), LGBTQIA+ in the West End (3pm) and how to write a musical (4pm).
Autographs and photo signings
Across both days, expect opportunities to see photo signings with Alisha Weir, Courtney Bowman, Lucie Jones, Ben Forster, Hannah Lowther, Alice Fearn, Shanay Holmes, Cassidy Janson, Erin Caldwell, Arlene Philips, Laurence O'Keefe and Sophie Evans. Complete timings are available via the Musical Con website.
A selection of day and weekend tickets remain for the event. It is due to take place on Saturday 21 October, and Sunday 22 October 2023, at ExCel London.
WhatsOnStage will also be making an appearance – so keep your eyes peeled!