1984 (Playhouse, West End)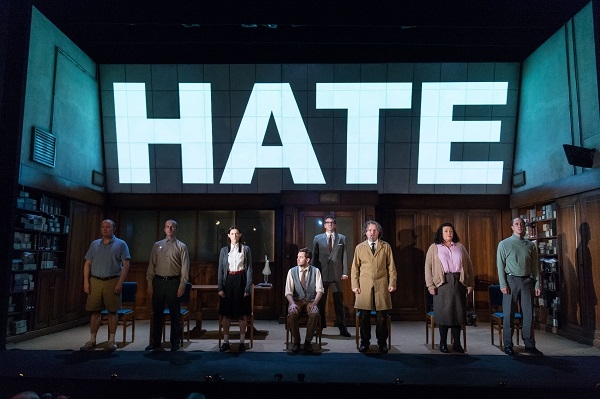 There aren't many novels that can boast an appendix worthy of dramatic interpretation, but Robert Icke and Duncan Macmillan's electric stage adaptation proves that 1984 is one of them.
It's electric in all senses; from the giant screen that dominates the stage to Big Brother's torture methods utilised in the infamous Room 101.
Successfully transplanted to the West End following its UK tour and run at the Almeida, Icke and Macmillan's production – brought to the stage by the Almeida, Headlong and Nottingham Playhouse – runs with a slickness that makes it believable the 101 minute interval-free duration is timed to the second.
Winston Smith, a man of rare intelligence in a dystopian age governed by Big Brother's omniscient Party, is first glimpsed penning his diary in an office-like room, recording with revolutionary intent the regime's evildoings, including the steady eradication of language into 'Newspeak'.
But his scribblings are interrupted by the musings of a book group, studying Orwell's novel (and therefore Smith's words) years later, referencing its academic importance. It's a neat framing device, inspired by the appendix, that cunningly aludes to Orwell as the Winston of our age.
Winston's journey through the complex layers of surveillance, repetitions, hate-sessions and deceits that comprise Orwell's allegorical universe is conducted primarily in this room, which serves as the staff canteen at the Ministry of Truth, where Winston is employed to delete identities (eerily resonant of 'The Disappeared' in Northern Ireland) and Charrington's duplicitous antiques shop.
Our hero's clandestine meetings with Julia (Hara Yannas) are filmed in a room backstage and shown on the screen, which lends a sense of danger and claustrophobia to these tender moments. In fact the ubiquity of screens emphasises Orwell's prescient idea that they function as both a suppressor and opiate of the masses (anyone with an iPhone can hardly disagree).
And the final journey to the ironically monikered Ministry of Love is conducted with a thrilling coup de theatre that sees the set 'struck' with jaw-dropping speed; huge credit to designer Chloe Lamford and indeed the acting company for its orchestration.
As Smith, Sam Crane – taking over from Mark Arends – has the requisite air of a man struggling to keep his head while all around are losing theirs, his face affixed with a near permanent look of incredulity. It's a solid, if at times muffled performance at the centre of a thrilling production bursting with ideas, intelligence and a clear reverence for its source material.
Well worth seeing and, indeed, seeing again. And with 101 tickets available for each performance at £19.84, it needn't break the bank.