Brief Encounter with… Happy Days Producer Amy Anzel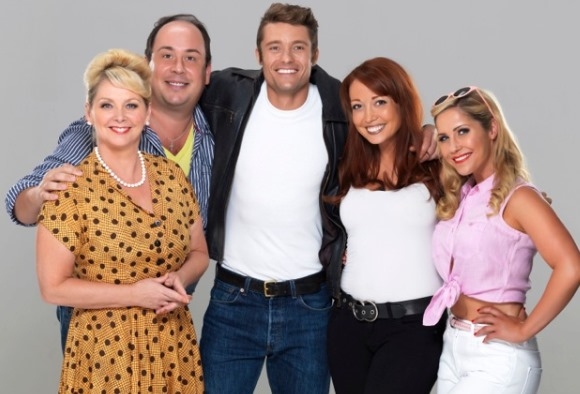 What made you decide to bring back Happy Days?
I was in the developmental workshops of Happy Days the Musical as an actress in Los Angeles back in 2004 and 2005. At the time, Garry Marshall, the creator of the TV show, was turning it into a musical, and I was fortunate enough to be cast as one of the characters in the workshops. I fell in love with the show and after moving to the UK in 2009, I decided to produce the show here as I saw that 1950's Americana shows were doing quite well in the West End with Jersey Boys, Hairspray, and Grease. I thought Happy Days belonged here as well.
What is it about the 1950s that seems to be so timeless and appealing to audiences of musicals and films?
I think there is a nostalgic element of the time that people cling to. Even if people didn't live through the '50's, there's an element of a nicer, more innocent time. Also, the style and fashion sense was fabulous and people seem to love to get dressed up in 1950's attire because of it.
You worked so hard to get the musical staged, what kept you going when you kept hearing no?
I am a persistent person…perhaps because I'm an Aries. When I say I'm going to do something, I do it! No one can stop me.
How did you feel when Henry Winkler said he would get involved?
When Henry Winkler agreed to come on board as our Creative Consultant, I was over the moon. I knew his involvement would not only be great for the Press side of things, but more importantly, to have the original Fonz guiding and helping our Fonz (Ben Freeman) become the character, as well as helping the rest of the cast, I knew that the show would have an element of authenticity. Henry is one of the most generous, loving people I have ever met and I could not be more grateful to have had him involved.
How have audiences responded to the show so far?
Audiences absolutely love the show! Even if they are not fans of the TV show, they fall in love with the characters and are entertained for 2 hours with amazing dancing and singing. And then there's that theme song, which gets the audiences out of their seats and dancing in the aisles.
What's your favourite song in the show and why?
There's a dance contest towards the end of Act I, and the song that accompanies it is one of my favorite songs in the show. It's called "Message In The Music." A close second is a song sung by Mrs. Cunningham, Joanie, and Pinky called "What I Dreamed Last Night." There is a reprise of it in the second act in which Cheryl Baker, who plays Mrs. Cunningham, might or might not rip off her skirt. It is an incredible moment in the show and the audience goes wild.
How is Ben Freeman coping with the iconic role of the Fonz?
I think Ben is doing a great job! Playing such an iconic role was always going to be difficult. We of course wanted him to pay homage to Henry Winkler's Fonz, but also make the role his own. I think it's a bit of a balancing act and he's done well at finding the right balance.
What's your ideal Happy Day?
My ideal happy days is to sit through a performance of the show and see and hear the audience enjoying themselves. It might sound cheesy, but it's absolutely true! It is such a pleasure to have the show entertain thousands of people every week. I love my job!
Are there still plans to take the show to the West End?
Absolutely! It's a matter of a West End theatre that suits us (sizewise) becoming available at the right time.
Can you summarise the show's appeal in five words?
Fun, feel-good, energetic, entertaining and nostalgic!
Happy Days continues to the tour the UK until 5 July, including stops at Cardiff, Aberdeen, Dartford, Canterbury, Plymouth, Wolverhampton, Milton Keynes, Salford and Nottingham.
To win tickets for one of the Lowry dates (Salford) on 23 June, follow us on twitter @wos_northwest for the competition this Friday.