The Dry House at Marylebone Theatre – review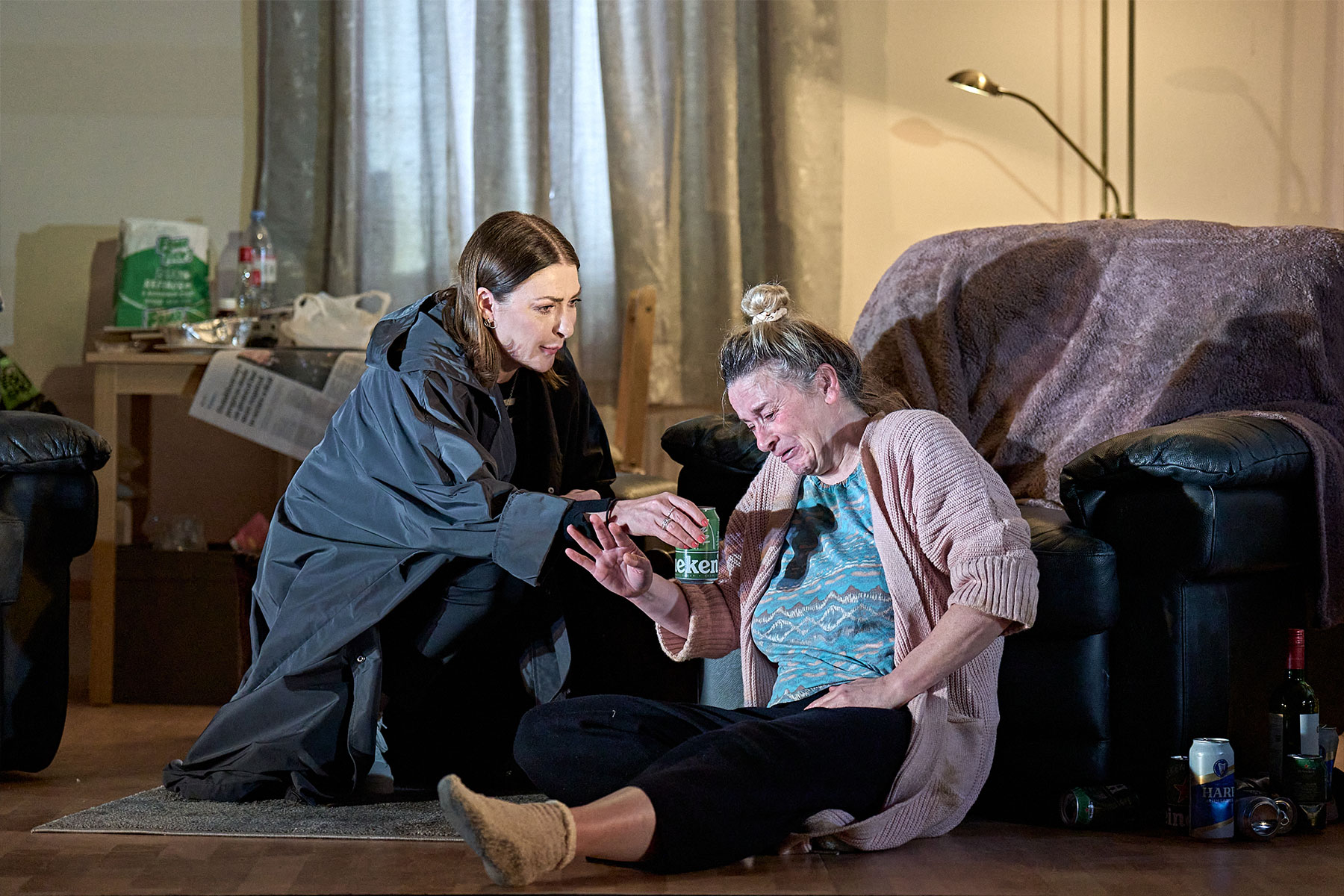 In The Dry House, writer and director Eugene O'Hare provides a bracing piece of realism with a bit of a twist in his sympathetic depiction of alcoholism and its effects on the sufferer and their family.
Set in small-town Ireland, Chrissy, a lifelong heavy drinker, has been hitting the bottle hard since the death of her daughter, Heather, in a car crash four years previously. Her sister Claire prepares for Chrissy to enter rehab, packing up her new nighties and alcohol-free toiletries and pacifying her with four final cans of beer to calm her nerves (no vodka allowed on this important day). Not pleased with the idea of a 'dry house' run by nuns and other do-gooders (self-righteous ex-alcoholics are the worst), Chrissy is determined not to make things easy for her sister or herself.
There is excellent work from designer Niall McKeever, who sets the action in a meticulously bleak living room filled with piles of laundry, empty bottles and other debris. It's a dreary environment that has long grown stale from a lack of air and light where Chrissy has trapped herself and where no human being can hope to thrive. Claire scolds her that drink won't get her anywhere when in fact she wants to be desensitised and have no obligation to engage with the outside world.
As Chrissy, Mairead McKinley (in a much meatier role than she had to work with recently in Akedah at Hampstead Theatre, another Irish all-female three-hander) viscerally humanises the consequences of alcoholism on the mind and body, from her hallucinations, her limited mobility to her ravaged stomach lining. Kathy Kiera Clarke, unforgettable as Derry Girls' brilliantly daffy Aunt Sarah, has the less showy 'straight' role as the sensible Claire, the sibling who always has a packet of tissues at hand, trying to persuade Chrissy to save herself while alternately confronting and denying her own problems with alcohol. Striving to convince herself that it's different if it's good-quality Sauvignon Blanc that's imbibed secretly in the afternoon followed by a couple of glasses with her husband over dinner (no supermarket vodka here) while maintaining a spotlessly clean home, this is the polite face of drinking compared with Chrissy's slovenly and socially unacceptable version.
As writer and director, O'Hare (who is also an actor) handles both roles skilfully (quite rare amongst creatives who attempt to take on both mantles). The commitment to kitchen-sink realism is somewhat subverted with Chrissy repeatedly reliving her final conversation with her deceased daughter Heather. Carla Langley delivers a powerful monologue about being exhausted by her mother, the mortification of being blackmailed and slut-shamed by a boy who claimed to love her and being let down by her male cousin, though the part when she breaks the fourth wall rather takes us out of the tightly wound world that has been created.
Claire comments that love for alcoholics is different – it isn't proper love because it's bound up in pity. It's a thoughtful character-driven piece of work with full-bodied performances that shows the devastation of alcoholism without preaching and gratifyingly ends on a note of hope.