Stage shows, musicals and opera you can watch online now for free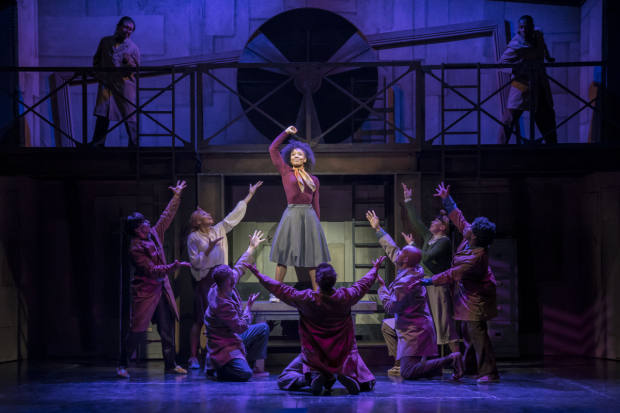 Theatres may be closed, but you can always get a stagey fix online. We round-up a series of shows you can watch right now – operas, musicals and more!
If you can – please do try and help out theatres across the UK – we've got some tips here.
---
HPC Meeeting 10 December 2020
[Not really theatre but utterly gripping]
London International Mime Festival
A variety of stage shows will be streamed on YouTube for free – highlighting the best in physical and contemporary storytelling. Highlights include Gecko's The Wedding.
Rifco Theatre's Leave the Plastic On
The company's comedy series is available to watch now – top notch production values and some whip-sharp dialogue.
A Tale to Tell
---
Shakespeare's Globe's Romeo and Juliet
Jackson's Lane international short film
Kneehigh's The Neon Shadow
Frozen
The cruise hour-long version can be seen now.
Sadler's Wells
Sadler's Wells will be streaming an archived production each month, featuring Candoco, Kate Prince and more. More details here.
These Folk at The Boulevard Theatre
Good Dog
Based on Arinzé Kene's hit play, the new, shortened, screen version has been put online for all to see.
Edinburgh International Festival
The organisation has created a whole digital platform to replace its events this year. The series includes National Theatre of Scotland's Ghost Light, which is below:
Zoo Venues
The Edinburgh Fringe company is streaming a host of online and recorded productions on its website, with all funds raised going directly to artists unable to perform this year. Watch here.
Tangled
Shakespeare's Globe's Richard II
Manchester International Festival
The festival is putting full shows, musical performances, talks, Q&As and more online for free. Check out the YouTube channel here.
Leonard Bernstein's Trouble in Tahiti
Opera North is streaming its production of the hit Bernstein opera for a full month on its YouTube channel.
Alan Seymour's The One Day of the Year
Australian and New Zealand actors including Mark Little, Kerry Fox, Daniel Monks, Paul Haley and Celeste Dodwell bring the hit play to life, all via remote performance. It's available until 31 May.
BBC's Performance Live
Featuring Hofesth Shechter, Tourreshero, Akala, Kate Tempest and more, the BBC is offering a raft of free theatre for UK users.
Royal Opera House
The iconic company is putting archived shows online for free, and you can see more here.
ZARA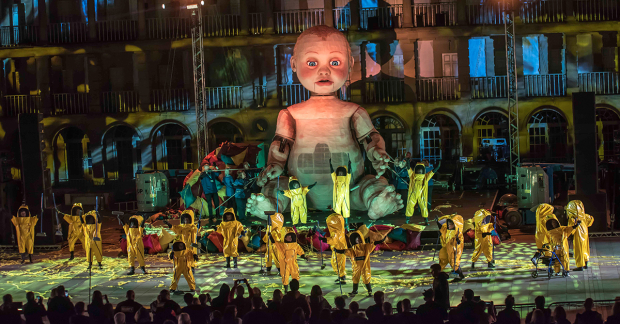 Now this is a bit of a biggy – Mind the Gap, Walk the Plank and Emergency Exit Arts' epic 2019 show is heading online from Sunday 19 April at 8pm. Featuring 100 performers and a giant baby bigger than a double-decker bus, the piece is available here.
Only the Brave
Only The Brave – A New Musical from AdVision TV on Vimeo.
Only the Brave, the hit musical starring Caroline Sheen and David Thaxton, is available for free online. The show, filmed by AdVision TV in 2016, tells the story of a group of soldiers in the run-up to the D-Day landings. It had its first run at the Edinburgh Fringe in 2008, before a full production premiered in 2016 at the Millenium Centre in Cardiff.
Cheek By Jowl
The iconic theatre company has brought back the archive recording of its hit version of Shakespeare's problem play, which was captured live at the Barbican in 2017. It's around for a month!
Henry V
The Barn's hit production with Aaron Sidwell and Lauren Samuels went live at 6pm on Friday 27 March, and will be available from the Barn's website after that. 
21 Chump Street
Long before
Hamilton
there was the speedy
21 Chump Street
, starring Anthony Ramos and Lin-Manuel Miranda. Ramos himself is about to take on the leading role in the
In the Heights
movie, scheduled to be released this summer. The BAM performance is available to watch in its entirety above. A small nugget of gold.
Ghost Quartet
Missed the award-winning revival of
Ghost Quartet
when it ran in London last year? Well Dave Malloy has posted the full musical on YouTube – featuring himself, performed in 2015.
The Show Must Go Online
This is a cool scheme – live readings of Shakespeare's works provided by top-notch actors who would otherwise be twiddling their thumbs.
Bubble
Rehearsed on Skype and filmed via Facebook, Theatre Uncut's newest show is a perfect fit for the coronavirus outbreak. Kieran Hurley's brand new play will be premiering on 23 March at 8pm and will also be released as a playtext to download, with performing rights free until 23 April. Find out more about it in the trailer above.
Opera Vision
Free opera! Now that's a nice sentiment – the European Commission-supported OperaVision will be supplying free opportunities to watch top-tier performances filmed at the highest quality level, with new shows released weekly on top of a massive back catalogue. Find out more.
First encounter King Lear
Another lovely RSC show geared towards introducing theatre to young'uns, this time taking the tragic story of King Lear and making it more accessible and fleet. The perfect way to kick off a love of theatre.
Gecko Theatre
Physical theatre pros Gecko have put a wad of their shows on YouTube for free, including The Time of Your Life, a collaboration with the BBC.
I, Cinna
Tim Crouch is a legend at the best of times, so seeing his solo show hosted by the RSC is a great chance to watch theatre at its best. You can also watch
his production of I, Malvolio here
.
Girls Like That
Evan Placey's hit 2014 play heads to the virtual world. It follows a group of schoolgirls reacting as one of their peers has naked photos of themselves leaked online – a pertinent issue for the present day, and a good way to get into a knotty play during the quiet hours.
Kanopy
Have you got a library card or a university login? Did you know about this amazing streaming service that can be accessed through your local institution to watch films, TV shows and live theatre performances? Did you know that it's totally free? Well you do now! Open to members participating libraries, colleges and universities, this is a great to way to catch up on some amazing shows from years gone by. Check out Kanopy and discover the participating venues here.
5 Soldiers
The critically acclaimed five-star production is a collaboration between British choreographer Rosie Kay and the British army, and gave an insight into the psychology and welfare of soldiers fighting on the front lines. It's now available to watch online above.
Clown Funeral
Associate artists of the New Diorama and Pegasus Theatre, Clown Funeral has made three shows available online for free (head to YouTube for the others) so that's a whole wad of whimsy while you wait for the virus to subside!
Timpson the Musical
The hit Fringe production has put its best foot forward and released a full recording online! Watch it above.
YesYesNoNo
The theatre company has put one of its earlier works, Five Encounters on a Site Called Craigslist, online for free! The show was one of the smash hits at the Edinburgh Festival Fringe 2017. And more than that, the company are sending the cast of its latest show The Accident Did Not Take Place to record at the Bunker Theatre. Stream it live online here on 21 March at 7.25pm.
Cookies
Playwright Emily Jenkins was commissioned to write this show about cyber bullying by the Theatre Royal Haymarket Masterclass charity. It was first performed live in 2017 and then live recorded for Anti-Bullying Week. A great show about the negative experiences young people can face online – and it's available for free!
Daniel Bye
This theatremaker has been creating exciting and thought-provoking work and putting it on his
YouTube channel
for years. Bye has also launched a
Patreon page
if anyone wants to contribute.
Top Story
This apocalyptic comedy came to the Old Vic Tunnels in 2013 and the theatre company has made it available to watch for free on YouTube in response to the coronavirus pandemic.