Tom Hiddleston and Gillian Anderson win at Evening Standard Awards
The winners of the 60th annual Evening Standard Awards have been announced at a star-studded event at the London Palladium.
Tom Hiddleston was awarded Best Actor for Coriolanus at the Donmar Warehouse and Gillian Anderson picked up the Natasha Richardson Award for Best Actress for her performance in the Young Vic production of A Streetcar Named Desire.
The James Plays by Rona Munro were honoured with the NOOK Award for Best Play and the Young Vic doubled their award tally with The Scottsboro Boys taking home the Ned Sherrin Award for Best Musical.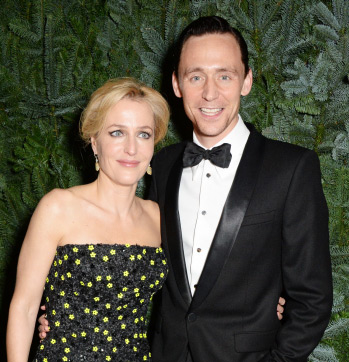 The Headlong production of American Psycho won Best Design in Partnership with Heal's for Es Devlin and the Milton Shulman Award for Best Director went to Headlong's artistic director Jeremy Herrin for Wolf Hall and Bring Up the Bodies at the RSC Swan and Aldwych Theatre.
For her performance in Dogfight at the Southwark Playhouse, Laura Jane Matthewson was awarded the Emerging Talent Award in Partnership with Burberry. Beth Steel won the Charles Wintour Award for Most Promising Playwright for Wonderland at the Hampstead Theatre.
Four special awards were also presented during the gala evening at the London Palladium. Tom Stoppard, a nine-time winner, received the Lebedev Award for greatest living playwright. The Editor's Award celebrated "a new high in music performance" and was given to Kate Bush for Before the Dawn. Here Lies Love were honoured for pushing the boundaries of the musical genre and Skylight starring Bill Nighy and Carey Mulligan at the Wyndham's was announced as Revival of the Year.
Steve Coogan and Rob Brydon hosted the 60th anniversary event at the Palladium with guests in attendance including David and Victoria Beckham, Kate Bush, Naomi Campbell, Benedict Cumberbatch, Idris Elba, Anna Kendrick, Helen McCrory and Damian Lewis, Ian McKellen, Helen Mirren and Eddie Redmayne.
Full list of winners of the 60th London Evening Standard Theatre Awards:
Best Actor: Tom Hiddleston (Coriolanus, Donmar Warehouse)
Natasha Richardson Award for Best Actress: Gillian Anderson (A Streetcar Named Desire, Young Vic)
NOOK Award for Best Play: The James Plays (Rona Munro, Edinburgh Festival Theatre & National Theatre's Olivier)
Ned Sherrin Award for Best Musical: The Scottsboro Boys (Young Vic & Garrick)
Milton Shulman Award for Best Director: Jeremy Herrin (Wolf Hall & Bring Up the Bodies, RSC Swan & Aldwych)
Emerging Talent Award in Partnership with Burberry: Laura Jane Matthewson (Dogfight, Southwark Playhouse)
Best Design in Partnership with Heal's: Es Devlin (American Psycho, Almeida)
Charles Wintour Award for Most Promising Playwright: Beth Steel (Wonderland, Hampstead)
Lebedev Award: Tom Stoppard (The greatest living playwright)
Editor's Award: Kate Bush for Before the Dawn (A new high in music performance)
Beyond Theatre: Here Lies Love (For pushing the boundaries of the musical)
Revival of the Year: Skylight