Complete Works: Table Top Shakespeare – Julius Caesar and The Merry Wives of Windsor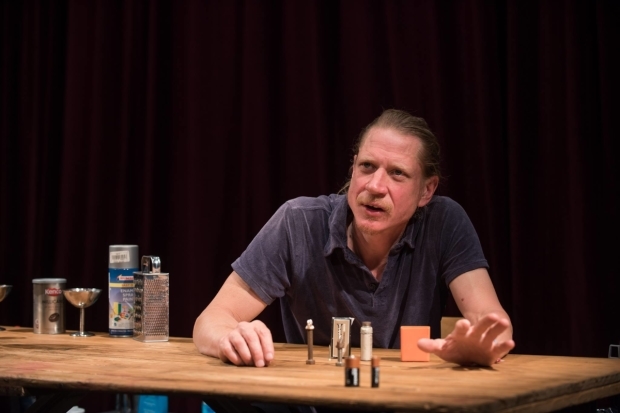 Julius Caesar is a bottle of oil; Mark Antony, coarse sea salt in a blue tub. Forced Entertainment deliver the complete works of Shakespeare– using household objects. One person tells an abridged, colloquial version of each play, sat at a large trestle table; helping to animate, or visually anchor it, are a cast of condiments, utensils, cleaning products… I see Julius Caesar and The Merry Wives of Windsor: wars are conducted with plastic cups; the merry wives are a pair of squeezy honeypots.
Table Top Shakespeare celebrates the art of storytelling: at about an hour long, each play is clearly, calmly delivered – no prior knowledge needed, these are succinct summaries although Forced Entertainment's fine actors imbue their breezy narration with warmth and a lightly knowing tone.
And it's delightful how quickly you invest in, say, a tube of handcream. There's internal logic to their choices: Falstaff is – obviously – a rotund bottle of brandy, his cronies cans of booze. Cassius and Brutus are both hot sauce, but while Cassius' bottle is primary-hued plastic, Brutus is made of glass: more upright, solid, more noble somehow. It's absurd, yet it works.
Anthropomorphising inanimate objects is a touch whimsical, I grant you. Since I regularly find myself attributing personality to crockery anyway, I instantly got on board with it – but so, I think, did most of the audience. There was an effervescent pleasure when an item matched a character just so – of course the stout sugar bag is Mistress Quickly. Shelves holding all the objects for all the shows are lit on the side of stage; afterwards, the crowd gravitated hungrily towards them.
This isn't the first show to use objects as characters: last summer the RSC used a similar trick to make Shakespeare's consulted plots more clear for family-friendly re-tellings, while Tim Crouch has cast items belonging to the audience as supporting characters in his play My Arm.
For the technique cheerfully demonstrate the magic of theatre – that old chestnut – yes, but it's always quenching to be reminded that theatre is pure imaginative contract, between the created world onstage and the audience's willingness to believe. The most interesting theatre often not only draws you in to the make-believe, but loudly reminds you that it's doing so.
Shakespeare's a natural candidate for the treatment, of course: his plays directly appeal to us to suspend our disbelief – "piece out our imperfections with your thoughts" – and the plotting demands it: all those storms and shipwrecks and epic battles can't be 'convincingly' recreated.
In fact, by adopting a storytelling rather than character-voicing approach, Table Top Shakespeare works on several imaginative levels: the simple words not only bring meaning to inanimate objects, but they also create pictures in our mind's eye, our imaginations conjuring the scenes described. When we're told of Caesar's murderers bloodying their hands in his carcass, you see such gruesomeness – even if what you're literally looking at is a huddled bunch of spice pots.
The almost complete lack of Shakespearean language will disappoint some – it would have been possible to incorporate more quotes verbatim, but they translate the lot into chatty modern English. Mark Antony's "honourable man" speech becomes a nonchalant assertion that "Brutus is a decent chap". If you're very familiar with a play, a summary may not satisfy; if entirely unfamiliar, it may feel like a primer.
Still, it's unlikely purists will be booking to see Hamlet-as-a-vinegar-bottle anyway – and for the rest of us, it's amusingly persuasive. As I write this up, I find myself wondering who the jug of trumpeting daffodils in front of me is (Beatrice, maybe?), which sets of Shakespearean twins my speakers could play. If you judge a piece on its ability to stay with you, or change how you see the world, then this was a success – albeit of a very daft variety.