Do critics think Carole King musical is Beautiful?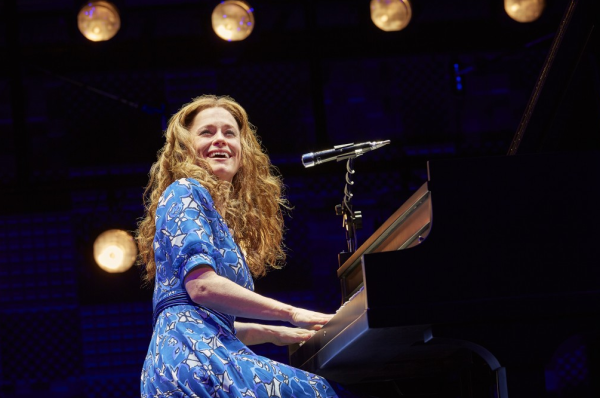 Mark Valencia
WhatsOnStage
★★★
Douglas McGrath's book doesn't do subtlety; it just gets on with naming the names and teeing up the hits in a whistle-stop tour through the life and work of not one but four great American songsmiths… it was a special moment when Carole King herself, joined by her lifelong friends Barry Mann and Cynthia Weil who wrote "On Broadway" and "You've Lost That Lovin' Feeling", took a bow. But that blessing is also the show's curse, because Beautiful is way too respectful towards its living subjects… For now, what we have is a collection of great songs linked by fragments of safe biography… As it is, Beautiful feels so much more old-fashioned than its material… The show is saved from ignominy – and how – by a star-making central performance by Katie Brayben… At every stage of King's story, from "It Might as Well Rain Until September" until "You've Got a Friend", Brayben grows as her character grows… If Matt Smith's ten-piece band had been located onstage rather than in the pit this music would have sizzled in the limelight. As it is, only the more rudimentary and plot-integrated song stagings really hit the spot.
Dominic Cavendish
Daily Telegraph
★★★
It's a funny kind of musical in which the leading performance feels like a massive redeeming feature, rather than part and parcel of what makes the show special… it's the career-making, all-woman performance at its heart from relative newcomer Katie Brayben that lifts it into the realm of the "go-see"… Book-writer Douglas McGrath has one primary dramatic idea threading through a jukebox compilation of greatest hits: showing how the early rock and pop "industry" in New York worked and took its toll on those feeding it… This journey could seem quite pat, and at times, it does. The dialogue is often so perfunctory ("Guys, it's 1964, we're rock 'n' roll writers"), the evening might be renamed "Dutiful"… What could be the show's one-note trick, hearing songs emerging as if at the moment of composition, acquires real magic.
Michael Billington
Guardian
★★★
… While the show is pleasant enough, it struck me as the theatrical equivalent of one of those bland Hollywood biopics in which a local boy or girl makes it to the top of the showbiz ladder… It's good to hear some of the old songs again, such as "It Might As Well Rain Until September" and "The Locomotion", and to be reminded of groups like the Righteous Brothers and the Shirelles. But the attempt to link the songs to the life feels strained, there is little of the ecstasy that drives Sunny Afternoon about Ray Davies and the Kinks… [Katie Brayben] makes the big leap into playing Carole King with admirable skill: she conveys her essential normality, love for music and longing for domestic harmony… But the show lacks the drama that some of us still hunger for in a musical.
Henry Hitchings
Evening Standard
★★★★
It's a great showcase for Lewisham native Katie Brayben. Without exactly capturing the particular qualities of King's voice and performance style, she sounds authentic and appealing — achieving a reassuring warmth and moments of raw passion… The approach to telling King's story isn't radical… But Marc Bruni's staging is slick and witty, Douglas McGrath's book nicely highlights the industrial efficiency of the music business, and Derek McLane's sets reinforce the impression of a world in which musicians are treated as soulless hirelings… Although the absence of a big name may hamper its chances, Brayben feels like a star in the making.
Paul Taylor
Independent
★★★★
[Katie Brayben] gives a wonderfully endearing performance that seems to soar beyond mere impersonation as it communicates King's warmth, modesty, self-deprecating humour, and touching integrity… It feels to me, though, that McGrath's book and Marc Bruni's production… are happiest when treating the Fifties and the early Sixties with a tongue-in-cheek wit… It says a great deal for the depth of Brayben's performance that she can, nonetheless, give you a real tear-jerking sense of how far King has had come to earn the right to sing the jubilant titular song at the inspiring finale.