Rattigan's debut play revived in Jermyn Street 30s season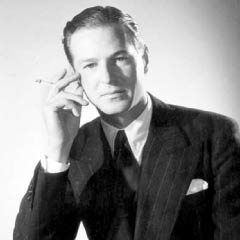 Terence Rattigan's debut play First Episode will receive a rare revival as part of Jermyn Street Theatre's 1930s-themed autumn season.
The 1934 play, which Rattigan co-authored with Philip Heimann, was inspired by the playwright's time at Oxford and centres on best friends Tony and David as their friendship is tested when Tony becomes besotted with a beautiful film star.
According to publicity material, "First Episode is one of the earliest plays to deal explicitly with homosexuality and marks the start of Rattigan's glittering career." It is not believed to have been revived since its premiere.
Directed by Tom Littler and produced by Primavera, it runs from 28 October to 22 November 2014.
Opening the autumn season at Jermyn Street is John Van Druten's Flowers of The Forest, which was also first seen in 1934, directed by artistic director Anthony Biggs.
The play, which runs from 23 September to 18 October tells the story of a family torn apart by the Great War, and is one of a number of productions marking the 100th anniversary of the outbreak of the conflict this year.
And rounding off the season from 25 November to 20 December is Mordaunt Shairp's The Green Bay Tree, a "study of gay desire and control". The original Broadway production starred Laurence Olivier opposite his then wife Jill Esmond.
Currently at Jermyn Street, the summer season concludes with the first ever UK production of William Inge's Natural Affection. Starring Lysette Anthony and directed by Grace Wessels, it opens on 15 July.