Boublil and Schonberg: 'We're close to finding our ideal version of Martin Guerre'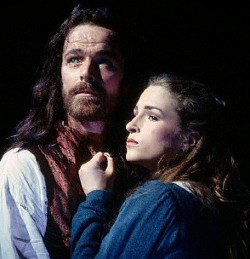 Alain Boublil and Claude-Michel Schönberg have confirmed that a major revival of their 1996 musical Martin Guerre is in the works.
Speaking to WhatsOnStage ahead of this week's opening of the West End return of their hit show Miss Saigon, Boublil said: "It's not a secret that Claude-Michel and I have been working for the last two years on rethinking Martin Guerre. What we have is a very powerful score… but at the same time we know it hasn't found its definitive form."
First presented in the West End at the Prince Edward Theatre in July 1996, directed by Declan Donnellan, Martin Guerre initially opened to poor reviews, prompting the writing partnership to drastically revise the material before reopening, after a three-week hiatus, in November 1996 to more favourable notices and a run of more than 700 performances.
"I think we are not far from having what we think is our ideal version of Martin Guerre," Boublil added, "but it's a little to early to speak about a new production, we are still writing it."