A View From the Bridge (Young Vic)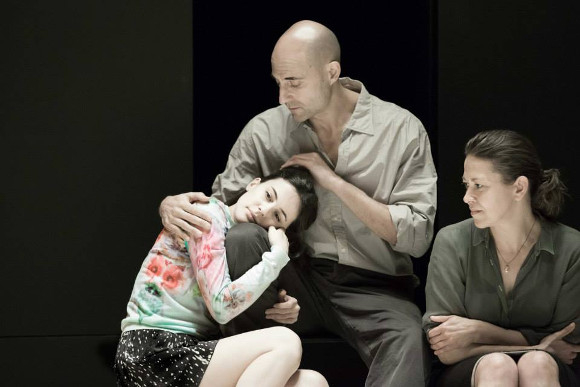 Arthur Miller had Greek tragedy in mind when he wrote A View from the Bridge (1955), based on a story a lawyer friend had told him about two illegal immigrants being shopped to the authorities by the uncle of a girl who had become engaged to one of them.
That uncle becomes the rough-house longshoreman Eddie Carbone, fretting in the shadow of the Brooklyn Bridge in Hoboken, New York, obsessed with his niece Catherine's attachment to one of the Sicilian brothers – she's "walking wavy" and her skirt's too short – while his wife, Beatrice, tries to stem his rising tide of jealousy.
The role marks the return to the stage after twelve years of Mark Strong, and he sure cashes in his chips as a genuine leading actor in this stark, rumbling, hothouse production by Ivo Van Hove, the brilliant Belgian director whose Toneelgroep in Amsterdam has three times visited the Barbican with Roman Tragedies, Antonioni Project and Scenes from a Marriage.
Common to those Toneelgroep epics was a sulphurous intensity of acting matched to a cool, imaginative non-naturalistic presentation. And here, Von Hove and his regular designer, Jan Versweyveld, create a grey sunken chamber, devoid of furniture, where the actors can sit round the rectangular long benches, criss-cross the void, until the ceiling descends slowly on a human writhing sculpture of all the main characters drenched in a steady fall of blood red rain.
So, this is a far cry from Alan Ayckbourn's definitive, bustling NT revival with a mighty Michael Gambon in that same original A Small Family Business season of 1987. A certain amount of parochial, street-level joshing goes missing, but there's one great moment – when Marco (Emun Elliott) lifts the symbolic chair in muscular supremacy over Eddie – that no "traditional" version I've seen has rivalled in theatricality or sheer threat.
Some may find the constant rumbling of the Requiem Mass over-portentous, but I feel it supplies the tragic glue to the bumpier domestic writing and does for the play surely what Miller wanted but didn't pull off himself, though he did supply the Greek Chorus in the lawyer Alfieri, who "tells" us the story in a mood of shock and awe; Michael Gould does this superbly well.
And Strong's baffled rage and sexual confusion is complemented by the fantastic heart-broken heaviness of Nicola Walker's helpless Beatrice and the spry, not-too-girlish fierceness of Phoebe Fox's Catherine. Eddie hasn't been near his wife in three months and plants a firm incestuous smacker on Catherine's lips before doing ditto to Luke Norris's blond and wide-eyed Rodolpho (the scene that got the play banned here originally, so that Peter Brook's production was presented in club conditions).
I still don't fully comprehend the connection between Eddie's self-inflicted anxieties and his public demand for the restoration of his good name and reputation. But the muddle in the play can be subsumed in the tragic mess of Eddie's downfall, and that is certainly the case here, with Strong growing louder and more bestial the more he disappears down the blinkered route of his own tunnel vision.