Transform 14 – Day 3 (West Yorkshire Playhouse)
Day three of Transform 14 and, in a packed schedule, we managed to catch four of the most exciting works to grace the weekend. Kicking things off was Third Angel's Cape Wrath, which comes to Leeds following a sell-out run at the 2013 Edinburgh Fringe.
We also got to explore the inner workings of the Playhouse building (as well as play with our smartphones) with the innovative, The Claim. Ring plunged us into complete darkness, before the night was rounded off with the eye-popping and colourful Transform Variety Night, which has become a legendary Saturday night festival staple.
Cape Wrath
Taking place in a minibus parked outside the Playhouse, Third Angel's Cape Wrath is an excellent one-man show, written and performed by Alex Kelly.
The piece forms a wonderful hour-long tribute to Kelly's late grandfather who, back in the late 1980s, took a trip from the family's adopted home in England up to the most north-westerly point of his native Scotland, Cape Wrath. 20 years later, Kelly retraced his grandfather's steps and undertook the journey himself.
The show unfolds as an authentic and anecdotal blend of the two men's experiences. These were highly eventful and emotive, yet, at the same time, mundane, journeys involving random encounters on public transportation and varying degrees of discomfort; all to reach this remote and desolate place, take a quick look around, contemplate life for a bit, have a cup of tea, then get back on the bus and go home.
Along the way, we discover the joys of hosteling; the social etiquette of hitchhiking; and the longest bus journey in Britain. We also hear all about the colourful characters both men met on their travels and assorted quaint details, such as the food Kelly senior enjoyed during his time on the road. Set in this part of the world, there's also rain – and plenty of it.
Cape Wrath completely sold out for its run at the Edinburgh Fringe in 2013 and it's easy to see why. It's an innovative, heartfelt and extremely affectionate show, which manages to take the 14-strong audiences on a real adventure from the comfort of a stationery minibus.
Rather than a performer putting on a show, Kelly comes across more like a guy just telling a story. The delivery is as fresh as if it were the first time he was recounting the tale, and he obviously enjoys telling it as much as audiences enjoy listening. Overall, it's a fitting tribute to Kelly's grandfather, excellently staged and delivered.
The Claim
Any time a show comes with a set of instructions involving headphones and downloading apps, you know you're in for something special, and Hannah Bruce & Company's The Claim certainly delivers a unique experience. Those without smartphones got to borrow one and once all apps were duly downloaded and audio tested, we gathered in the Playhouse's bar to await instruction. Most intriguing.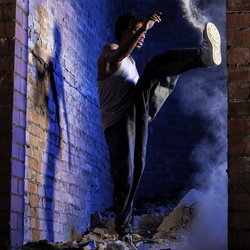 The hour-long show largely takes the form of a self-guided audio tour, in which participants get to push their way through doors marked 'no entry' and explore areas of the Playhouse building hitherto closed to visitors. Along the way, there are a few little surprises in the guise of pieces of performance art. In truth, though, the performance aspect of the show isn't entirely necessary, as there is plenty to enjoy and explore behind the scenes without any other distractions.
Moving in a small group, we followed a designated course through the empty Quarry Theatre, then backstage and beyond, through dark spaces, stairs and winding corridors, all in the company of our audio guide, who urged us to keep going until we reached our final destination deep inside the building. Of course, it would be a shame to ruin this part of the show, but needless to say it doesn't disappoint.
The whole idea is to use our imaginations and lose ourselves in our environment as we slip around unnoticed. While the production is a little too regimented to fulfil this aim, it's a novel idea that mostly works well. For regular visitors to the Playhouse, or anyone interested in venturing behind the scenes of a theatre, it's an especially worthwhile experience.
The technical aspects also worked seamlessly; demonstrating how modern technology can open up whole new world of creative opportunities.
Ring
When you're waiting to see a show and you overhear a couple of people coming out of an earlier performance gasping for air and throwing around such phrases as "panic attack", it's hard not to feel a little apprehensive about what you're letting yourself in for.
However, while David Rosenberg and Glen Neath's hour-long Ring is certainly disorientating, it's not quite the panic-attack inducing experience that might have been anticipated.
Handed headphones as we went in and told to take a seat, our "host", Michael, did a little setup; splitting up pairs so we're all sitting by ourselves and subtly asking a few of us our names. Then the lights fade to black. Complete pitch black.
We're told to put up our hands and yell "help" if we need to leave, and a couple of people do just that (I'm later told they're not part of the show).
We then spend the next 50 minutes (although it seems much shorter) in a strange world. The setup is a kind of weird help group in which "we" (the audience) are at the centre as a mysterious and silent figure who is both loved and hated. So, for the duration, we assume a fake identity and find ourselves subjected to much attention from the other participants.
The audio is extremely effective as we are (aurally) assaulted by sounds and voices coming at us from all angles, but while it's definitely a strange experience, that's pretty much all it is, so it's hard not to feel a little bit let down.
When you've got a captive audience sitting in complete darkness for an hour, the creative options are limitless, and while Ring is by no means a failure, it's just not the nerve-jangling experience it could have been. Possibly this is to do with the fact the audience is given this fake identity. Knowing you're just participating as a made-up persona turns this into a very impersonal experience when it should have been the exact opposite.
Of course, for some people, the idea of spending that amount of time in pitch blackness is scary enough; but once you get used to that environment, all you're really left with is a story unfolding all around you in sound. Effective in its way, but a little disappointing given the inherently unsettling environment the creative team had to play with.
The Transform Variety Night
From pitch black to garish Technicolor. You certainly can't accuse Transform of being boring!
In truth, it's hard to know what to say about a show that includes a naked hula hooper, the (joke) winner of Bagdad's Got Talent and a male showgirl from Newcastle lip-synching to Edith Piaf using a banana for a microphone.
However, this isn't a show that pretends to be anything but a high-spirited evening of entertainment, featuring a bill filled with acts that may not be to everyone's taste, but which are certainly a talented bunch of performers. They certainly all went down a storm in front of an excitable and game Leeds' audience.
Hosted by Scottee (kind of a cross between Lily Savage and Peter Kay), the tone was set early as the jokes flowed; with those (un)fortunates in the front row bearing most, but not all, of the brunt. While those of us sitting on the aisle didn't escape Scot-free, it was good-natured adult end-of-pier stuff, with many of those picked on giving back as good as they got.
Scottee was the ideal host, interacting easily with the audience and emerging between acts in a series of ever more outrageous costumes. The humour was adult, but not overly so, and while it touched briefly on some topical stuff, the show remained light and inclusive throughout.
So what about the acts?
Standouts were filthy, satirical cabaret act, Bourgeois & Maurice; an award-winning comedy/musical duo. First time out, they roped in a good natured woman from the front row to help out on a song all about the wonders of Leeds. They returned later for a welcome second stint when a few of us in the aisle seats also got in on the act. In truth, it's hard not to enjoy an act featuring a man wearing a skin-tight bodysuit decorated with pictures of Vladimir Putin.
Newcastle's Ginger Johnson came on for a couple of lively and popular numbers; firstly a unique spin on the classic, "Non, je ne regrette rien", then a second stint performing comedy and a neat song about everyone's favourite Swedish furniture retailer, IKEA.
Empress Stah was a highly impressive aerial artist, while Baghdad's got Talent was a series of funny and politically sharp little skits featuring a woman wearing a full Muslim burqa, with only her eyes visible.
Jess Love and Wendy Watts did weird, wonderful and partly naked stuff with hula hoops and light bulbs. They returned later for a cross-dressing sketch in which they finished up, yep you guessed it, naked. What is it with these women?
There were a few lulls in proceedings, with a couple of Scottee's extended comedy routines dragging things down a little. However, a heckler in the audience livened things up, as did a search for a talented audience member, which resulted in a few minutes of fame for an excellent female singer who belted out a bit of 'Summertime' to thunderous applause.
Overall, the Variety Night was true Saturday evening entertainment, and the party didn't stop when the show ended, as the night owls adjourned to the bar for the after-party. All in all, the Playhouse was definitely the place to be in Leeds, as day three of Transform 14 drew to a close.