The Flame-Haired Dynamo (Hull)
Nick Lane's production of Mick Martin's ingenious and ambitious new play, The Flame-Haired Dynamo, throws everything into the mix, from film clips to cartoon strips, and produces an evening that begins slowly, if pleasantly enough, piles surprise on surprise and ends up slightly serious and unpredictably comic.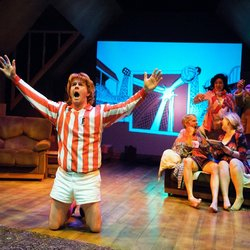 The initial concept is promising, though the central character, 40-odd years old, out of work again with Christmas looming, unable to take a grip on his life, risking his happy marriage, is pretty familiar. Chris McCann (a good footballing name – is Mick Martin a Wigan supporter?) regresses constantly to the world of 1970s adventure comics, notably the football stories of Titch McCreavie, The Flame-Haired Dynamo.
Of course, Titch appears to him, and the re-creation of the comic strips is beautifully done, with an achingly accurate pastiche of every cliché, and Kev F. Sutherland's spot-on illustrations (I love the fans behind the goal!) echoed by inspired deadpanning by David MacCreedy (Titch in dynamic flame-haired wig) and Ray Castleton (the old-school manager in sheepskin, trilby and pipe).
I guess a fair number of the audience anticipated Chris's return to 1978, but the way in which it is handled – with some wonderful post-modernist knockabout – is anything but predictable. Watch out for the feminist version of the adventures of Titch McCreavie!
Initially Chris doesn't seem a very interesting character (maybe that's the point), but James Weaver is adept at responding, reacting and bringing others into play. He projects the character's problems convincingly and sympathetically, but not too sympathetically – the play ends happily, but the Christmas goodwill is never unnecessarily sugar-coated.
MacCreedy and Castleton step out of their two-dimensional comic selves into a series of neat cameos, as, for instance, respectively, the fecklessly bombastic father and the crustily wry grandfather of Chris's teenage years.
Fiona Wass, as wife and mother, moves from sour to sweet convincingly and Catherine Lamb excels on her stage debut in a double-role that shifts across the boundaries: Titch's brightly adoring girl-friend and the clarinet-playing left-wing intellectual school-girl.
Though full of appropriate detail, Pip Leckenby's set seems too spacious for Chris's attic, but it successfully morphs into living room and changing room. Tristan Parkes adds to the atmosphere with original music and Nick Lane unites the disparate elements with a firm hand.
The Flame Haired Dynamo continues at Hull Truck Theatre until 11 January 2014.