Sleeping Beauty (Harrogate)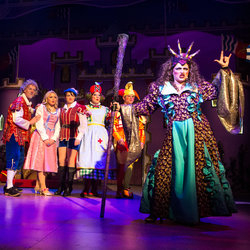 All the publicity for Harrogate Theatre's Sleeping Beauty lays emphasis on the festive family favourite angle. If rather too alliterative for some tastes, this is no less than the truth. The concept of "fun for all ages" may be a cliché, but that's what you get.
Despite my failure to bring the obligatory five-year-old, I found plenty of chuckles – and the occasional surprise. The youngsters – and North Yorkshire's Brownies were out in force – are happily looked after by a series of harmless and very silly eccentrics and any untoward adult humour is cut off before the punch-line is even in view.
Phil Lowe and David Bown's take on Sleeping Beauty is a very clear narrative rather than a series of turns and set-pieces. The nicely localised twist places the story in Knaresborough Castle and involves a dangerous journey to Mother Shipton's Cave to find the spell to waken the Princess – dangerous because, for some reason, they have to go via Blubberhouses!
A skilled and hard-working ensemble of seven shares the fun around. Even Amy Walsh, suitably sweet as Princess Aurora (a part limited in its scope for over-the-top humour!), gets her chance as a cantankerous broad Yorkshire Mother Shipton. Chief co-ordinator of audience antics is the splendid Tim Stedman (Silly Sidney) who has spent 14 Christmases being silly in Harrogate – and has got very good at it!
Chris Clarkson is an engaging Dame, dry and droll, less grotesque than many, and an amiable set of eccentrics is completed by Steve Huison's doddery King Keith and Philip Stewart's Roy the hippy Wizard, made up as Roy Wood in one of the gags for the older generation! Well, it won't harm the Brownies to hear a swift chorus of See My Baby Jive! Katy Dean's bold Tom Nidderdale slaps her thigh in a rather post-modernist way and Lindsay Scigliano cackles venomously as Carabosse.
Phil Lowe's imaginative and well-oiled production and Amie Liddle's jolly choreography keep them all on the move, supported by an excellent troupe of six girls (two teams alternate and I'm sure the other one is just as good) who manage to be very funny when required as well as dancing prettily. There are a couple of good production numbers, but songs are not too much in evidence, though Nick Lacey's versatile trio adds enormously to the fun, even throwing in a few musical jokes for the grown-ups.
Costumes veer endearingly between the traditional and the architectural and Foxton's sparkly castle set moves through many variations, notably a gloomy Mother Shipton's Cave with a very scary spider!