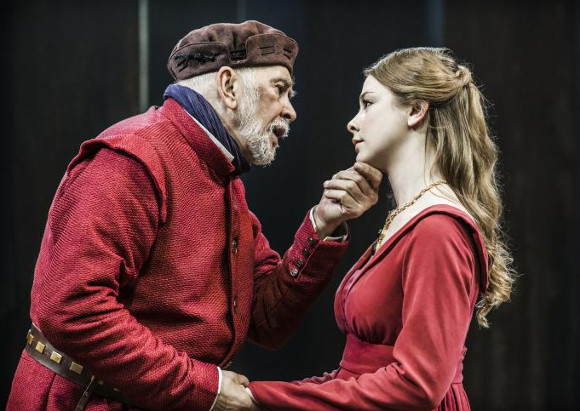 If Frank Langella's performance in Angus Jackson's fine production of Lear is anything to go by, there's nothing like giving up the throne to find a new lease of life.
Stumbling to the throne in the opening scene, Langella's Lear appears as if he is giving up the crown not a moment too soon. The image of senescence, he exhorts Goneril to speak up, as if his ears of four-score years cannot discern her honeyed words, only to be discovered in the next scene romping with the lads.
Perhaps it's this deafness that leads him to deliver each line fortissimo. It's a delivery that would be loud in an open air theatre, and in the compact Minerva it fills every inch. But it's not just the volume: Langella seems to relish every word, almost as if hearing the verse for the first time. All told it's a very 'actorly' performance; this must have been what the great actor-managers sounded like (I wonder if Donald Wolfit was listening in with approval).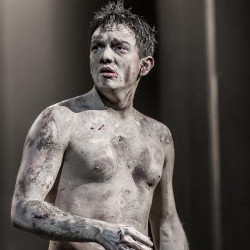 The stentorian tone means the effect of his railing against the storm is somewhat diminished but this is more than compensated by his great expression of tenderness. This is a Lear who, having given up the encumbrances of power looks to find love everywhere: embracing his Fool – a touching performance by Harry Melling – in the eye of the tempest, enclosing the beggarly Edgar (Sebastian Armesto) in the folds of his clothes, all before dying wrapped, pieta-like in the arms of Cordelia.
There's a pretty malevolent pair of daughters, particularly Lauren O'Neil's calculating Regan, chillingly ignoring Cornwall's appeal for help after his stabbing, while Catherine McCormack is icily manipulative as Goneril.
Max Bennett brings out much of the humour in Edmund, the cynical commentator of much of the action. It's a creepy performance, his sardonic smile masking his darker purpose. There's also excellent support from Denis Conway's Gloucester and Steven Pacey's Kent.
Jackson's production is clear, beautifully paced with some judicious cuts – Cordelia's asides during her sisters' declaration of love have been excised, making her reaction the more dramatic. Isobel Waller-Bridge's atonal music adds a perfect counterpoint to the action. But at the heart of it all is Langella's tremendous, barn-storming Lear; it's a fine performance, well worth the trip to Chichester to see.
King Lear continues in the Minerva Theatre until 30 November 2013