Relative Values' Leigh Zimmerman: 'If you want to last in this business, you must do it all'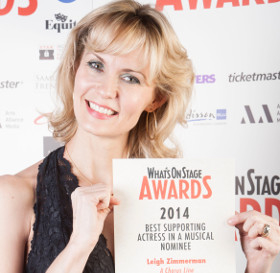 Tell us about Relative Values
It is a Noel Coward play that he wrote in 1951. It's basically about a family of the British aristocracy and the son is about to marry a Hollywood actress. Really it's an incredible statement, post-war, by Coward on the movement to remove the class system. There's that upstairs downstairs reference and mentality going on in the household. And then this Hollywood actress who believes that she is royalty in a different culture comes into the house and thinks that this is going to be her new role. So it's a real comment on American and British culture, but also just really of what the class system is. It's a brilliant opportunity for me as an American actress to live in Coward's world.
What was it that drew you to the production?
Working with Trevor Nunn, full stop.
What is it like working with Trevor Nunn?
It's incredible; sitting opposite the most intelligent man you could ever hope for to be giving you notes. With each note comes the history and all of his experience along with it and you just feel like you're getting the most thorough analysis of what you're doing and why you're doing it.
Was there anything in particular that drew you to the role?
I think it was important that there's an understanding of both cultures, and living in both places. You know, when you're an American and you live here, and you want to belong and you want to understand the culture but yet you're not born there so there's never really that 100% understanding and vice versa. I love the challenge of being able to portray someone in that situation and show those differences and similarities. As humans we all have universal similarity but culturally, no matter what culture you're comparing, people are very different with the way they're raised.
Would you consider going back to Broadway to do another show?
I think every actor would be silly to say no. As your career goes on I think you're looking for the work, number one. Number two, the ability to continue to support yourself and your family, but also for ways of breaking the mould. For me, this is somewhat of a departure from what I'm known for. Those kind of things excite me, to be able to do those types of roles.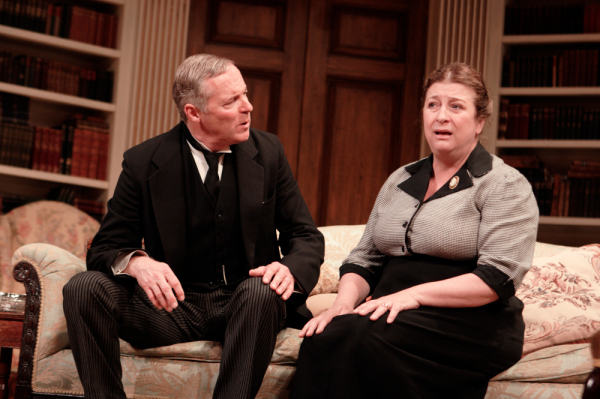 You've originated roles in the past. Would that be of interest again?
Yes, of course. Those are wonderful, beautiful, giant machines that you just jump on for the ride. Especially something like The Producers, that's crafted by geniuses. When you're part of something like that you feel completely safe to be able to create your character and go.
What made you initially want to become an actor?
Probably from my very early days, I wanted to become a dancer and be in productions because my mom directed high school productions in America. And at 4, 5 years-old, I was going after my school watching play rehearsals or being in the productions. That led me to dancing and learning that I had a real talent that was recognized. I think, though, I realized about 18 years-old that if I wanted to continue with showbusiness I had to turn my hand to being an actor because there was just no longevity in dance. That is really when the light bulb went off that 'ok there's a lot more to this,' and actually it made me a better dancer to be a better actor.
What advice would you give to someone following down that path now?
I do masterclasses all over the world actually, and I always tell students that if you want to last in this business, you must do it all. If you want to just be an actor or just be a dancer or just be a singer you can specialize in what you do but you have to realize that you are selecting more of a niche market for yourself. If you're a dancer but can open your mind, take acting classes, it will make you develop your dance characters better. I think that the more you can do the more you will work, and the longer you'll be in the business. Also I tell kids to stay in school for as long as they can. Because gone are the days where you had to leave school in order to pursue your dreams, you can do both now.
Are there any roles that you would still like to play?
Yeah, I just did the Elaine Paige show for Sky Arts the other day as one of her first guests and I performed "Adelaide's Lament" from Guys and Dolls and I just think Adelaide is a wonderful character. Again, a departure from what people know me for. I'm just kind of always looking for dramatic roles because I'm most known for doing comedic roles.
That's what I love about Relative Values. I think there's a lot of real drama and sort of reality based dramatic moments as well as the light comedy, which is just my perfect mix.
Relative Values runs at the Harold Pinter Theatre until 21 June
Come on our hosted WhatsOnStage Outing on 24 April and get a top-price ticket, free poster and access to our exclusive post-show Q&A with the cast all for £32.50