Measure for Measure (Silk Street Theatre)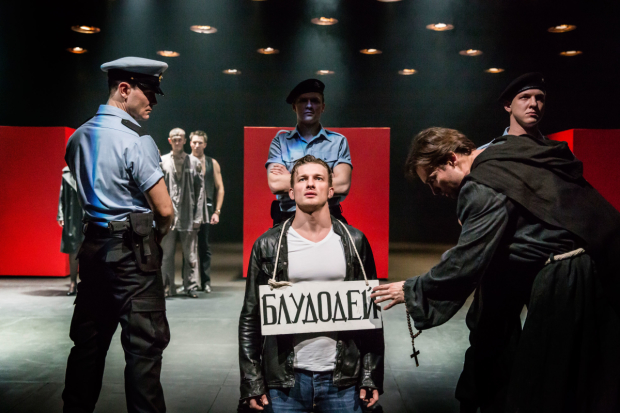 No play of Shakespeare's is more intriguingly resonant with moral challenge and culpability than Measure for Measure, and Cheek by Jowl duo of director Declan Donnellan and designer Nick Ormerod revisit a modern dress version they toured with twenty years ago in an entirely fresh look with actors of the Pushkin Theatre, Moscow.
This Barbican visit is at the end of a tour (one more week, then next week in Oxford) that started in Madrid last September and will continue in the Moscow theatre's repertoire, and it marks a high water point in the Cheekies' Russian adventure that started back in the mid-1980s.
There's a fluency and ensemble confidence stunningly encapsulated in the sequence where Petr Rykov's shirtless Claudio, imprisoned for getting his girlfriend pregnant, plucks at his cello while the plot, and the company, progress through a plaintive waltz, and the prim deputy, Angelo, is tricked into bed with his spurned lover, thinking she's Claudio's sister, Isabella.
This is after he's struck a deal: he'll spare Claudio his life if his sister, a novitiate nun, will sleep with him. The play breaks like a wave over 100 uninterrupted minutes, starting with the thirteen actors rushing in a choreographed phalanx through an abstract Vienna of Ormerod's five red boxes – the "naughty" stuff goes on inside these revolving cubes – until the temporarily abdicating Duke (impressively and unambiguously played by Alexander Arsentyev as an undercover spy in his own back yard) arrives on the red carpet to seize back the reins of power: and claim Isabella (Anna Khallulina) as his rightful trophy.
No-one finds Shakespeare's "problem" play remotely problematic these days. Donnellan has cut savagely, and judiciously, the surtitles are excellent, and it's a pleasure to hear the text in a language that suits it so well. The poetry, the bestiality and the hypocrisy all sound as natural as breathing to this company; it's significant that the disloyal, cowardly clown, Alexander Feklistov's Lucio, is the crux of the performance – you cannot take your eyes off this superlative, expressive actor.
The modern parallels of a restless society inviting a puritan, vigilante backlash, whether in Vladimir Putin's Russia or David Cameron's Britain, need no emphasis or apology. The play does it all, and the bespectacled, clean-cut monster Andrei Kusichev creates of Angelo is an increasingly recognisable and sickening public figure "dressed in a little brief authority…who plays such fantastic tricks before high heaven as makes the angels weep".
The underworld of Pompey, Froth and Mistress Overdone is less effective in this timeless conceptual void, but we can afford the small price of the play's grubby linguistic detail for the overall beauty and organic texture of the production; and, as they're Russian, the actors are not lost or absorbed in this way of doing things; it's their natural habitat.
Measure for Measure runs at the Silk Street Theatre until 25 April 2015